The Boston University women's golf team traveled to Sarasota, Florida for the Harvard Invitational and came back with a record score, good enough for second place.
Over the 54-hole total, the Terriers tallied 896 strokes, which set a school record. They bested the old record, set at their previous invitational, by two strokes.
Standouts from BU include junior Phyllis Tang and senior Megan Carter. Both Carter and Tang shot scores of 222, tied for third in the competition.
Senior Adela Cejnarova placed 13th in the competition, coming in at two under par in her second round on Sunday with a score of 70. The Czech Republic native shot a 222 for the invitational, finishing just behind her fellow Terriers.
Freshman Abby Parsons also finished respectably, as she shot three 77s for a final score of 231. The North Carolina native placed 18th in the tournament.
The Terriers have shown monumental strides as the season has progressed. Over its first six matches, BU placed in the second half of the field. Yet, in each of the past two matches, BU has placed second, giving them momentum heading into their final two regular season matches and then the Patriot League Championships.
Men's rowing defeats Brown, claims Michalson Cup
The Terriers faced off against Brown University over the weekend. They came away with a victory, and with it the Michalson Cup.
BU started the first varsity race hot, amassing a sizable five-seat lead at the 500-meter mark. Leading the Terriers were juniors MacKenzie Hart and Max Ponsen, and they continued to extend their lead by six seats at the halfway point of the race.
In the second varsity race, BU again got off to a very quick lead, led by juniors Justin Goucher and Jacob Barker. The pair led BU to a full-length lead after the first 500-meters.
BU's second varsity team easily handled Brown's with a final deck time victory of 6:13.0 to 6:18.9.
With the victory, for the first time in the program's history, BU has now claimed all six cups that it will compete for during the season.
Women's lightweight rowing claims first varsity victory, defeats MIT and BC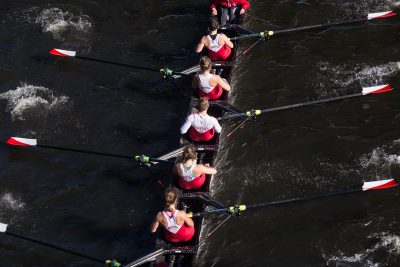 On the women's side, the lightweight rowing team won its first varsity race against Boston College and the Massachusetts Institute of Technology. BU finished with a time of 7:08.0, MIT with a time of 7:13.9 and BC with a time of 7:22.7.
The Terriers were paced by sophomores Taylor Alix and Janice Hagerman. BU jumped to an early lead before opening a full-length lead over MIT at the 1000-meter mark and never relinquished it.