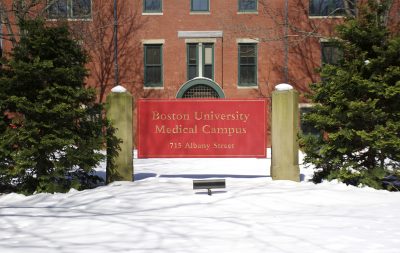 Boston University's School of Medicine will have a Health Sciences Education program in the fall for health professionals who wish to become better educators.
The new program, offered through the Division of Graduate Medical Sciences in collaboration with the School of Education, will allow students to complete a master's degree or certificate in HSE, requiring 16 and 32 credits respectively, both of which can be completed either full-time or part-time.
Jeffrey Markuns, a doctor and professor in the School of Medicine, helped develop the program. He made the decision to work closely with SED in designing the HSE program.
"Nobody understands the philosophy of education on campus better than they do," Markuns said. "We kept two courses delivered through the School of Education. Those are the curriculum courses where you get to design a curriculum by yourself under the mentorship of a professor from the School of Education."
The courses are focused on everything from clinical to didactic to research teaching, Markuns said, but the common thread among all concentrations is teaching curriculum-building.
"We thought the core thing that everyone needed to know for education was curriculum: how to write a good curriculum and put something together, how to do good teaching, clinical and in the classroom, and how to do good evaluation and research," Markuns said.
The program also includes work experience requirements based on the student's level of education. A student with a terminal degree (MD or Ph.D) does not need any work experience, while a student with a master's or bachelor's degree could need up to three years working in the field. Markuns said that in an effort to make the program as all-encompassing as possible, they decided that educational experience could make up for work experience.
"People who have a terminal degree, they've been in school a long time so they have a lot of experience both learning and teaching," Markuns said. "For people who have had a master's, they haven't had quite a lot of school. They may not be experts in their discipline as somebody with a terminal degree — and a bachelor's, it's the same thing. They've been learning and teaching for less time. We wanted them to have some work experience that would bring them up to that same level of learning and teaching."
He said students should leave the program as improved instructors who are effectively teaching students what they actually need to know in a workplace.
"The master's is intended to be a practical-based program," Markuns said. "It has a practicum where medical professionals who are ideally already doing some teaching have an idea or program that they want to do as part of their work. They can apply that in a practicum with some mentorship of the faculty in the program."
Theresa Davies-Heerema, a professor in the School of Medicine, said students can develop a practicum that is either curriculum-based, research-based or evaluation-based. They will also be under the guidance of a faculty member throughout the program.
"Students will be able to develop and implement a practicum that is uniquely designed to match each individual's personal and career goals," Davies-Heerema said. "A practicum is a hands-on experience where you develop a topic, you implement it, you assess it and at the end, be able to come up with a conclusion of how successful it was. It's like an applied thesis."
Several students said they thought the program would be a good addition to BU.
Erika Treske, a senior in the Sargent College of Health and Rehabilitation Sciences, said she has had personal experience with both people who were trained in teaching and people who were not.
"I've had training from a physical therapist who is also a professor — they were very well-versed in how to educate," Treske said. "I thought that was a very positive experience because he let me be a lot more hands-on with the patients. I've also had a physical therapist who only had a [physical therapy] degree and she would only demonstrate the skills and have me observe. I prefer the more hands-on experience."
Isabella Carlo, a junior in Sargent, said a program like HSE could help the field of medicine as a whole.
"I think it would be great," Carlo said. "I have a lot of experience working with doctors who have had fellows with them and I think the more education they get, the better medicine will be, overall."
Kayla Furbish, a sophomore in the College of Arts and Sciences, said she thinks communication is important, especially in the field of health sciences.
"I think it would be important to get education on how to be an effective communicator or teacher, especially with doctors who have been in their practice for a long time," Furbish said.