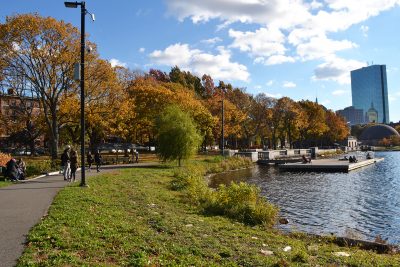 With the Boston Common, the Charles River Esplanade and various community gardens immersed in the city, Boston has maintained a reputation for putting a lot of work into its public green spaces. The Boston Society of Architects is now focusing on the Emerald Necklace, a chain of several parks and waterways, in hopes of making some additions.
With the first installment of the four-part new discussion series, "Fulfilling the Promise: Community Building and the Emerald Necklace," community members and leaders gathered at BSA Space on March 29 to explore the future possibilities for a new greenway on Dorchester's Columbia Road. As of now, the Emerald Necklace does not extend to Roxbury or Dorchester. The first meeting, "Setting the Stage," presented possibilities to connect Roxbury and Dorchester residents with those from Franklin Park, Brookline, South Boston and more.
The discussion featured presentations from architectural and societal leaders from around the area, who are interested in this new environmental initiative by the BSA Foundation. The panel was moderated by Mary Anne Ocampo, principal at Sasaki Associates and a professor at the Massachusetts Institute of Technology.
The panel also featured two experienced enactors of change — Majora Carter, president of MCG consulting, and Corey Allen, the executive director at the Franklin Park Coalition.
"It's not just a park," Carter said in the question and answer portion of the panel. "This really should be looked [at] like an economic development project. It should be looked [at] as a social uplifter. It should be an educational tool. All of those things are inherent within the building of these kinds of projects."
Carter shared her contribution to the decrepit South Bronx, New York area and how she revitalized it through green space and community outreach, and encouraged Boston to do the same.
This isn't just for aesthetic purposes, Allen added. It's important for Boston communities to be "happy and healthy," he said.
Carter also emphasized the potential teamwork aspects of this greenery project.
"No one group is going to have all the answers, but collectively, you can create this incredible kind of space," Carter said.
Columbia Road facilitates various modes of travel along its pavement. From students walking on sidewalks to cyclers on unprotected bike paths and automobiles, a myriad of parties requires attention and consideration during the planning.
"People are going to have their preferences and/or their priorities and I think just balancing those is going to be really important," Allen said.
Lance Guerrero, 30, of Medford, attended the meeting and gave insight from a student perspective as well, since he is currently a second-year graduate student studying landscape architecture at Boston Architectural College.
"This is important for students to be here as well because you kind of see people around, whether it be critics or other instructors or professional, who actually have hands in the project," Guerrero said. "As a student, we're actually seeing them apply it in real time and in real life. So I think it's very [helpful] having BSA be a bridge for students."
With students, designers, architects and other community members working together, Brittany Dixon, 25, of Dorchester, also noted that involving many people in this project could help bring about social action.
"A completed park system would complete the circulation pattern and I think that focusing on the Columbia Road section, aka the Dorchester Way, would bring a lot of great social change," Dixon said.
Others agreed. It's about "creating those safe spaces where everybody recognizes that they bring a particular kind of expertise," Carter added.
Allen mentioned the importance of being an active member of neighborhood associations, suggesting that those who are not involved should consider "linking with them and ensuring your intellectual and collective voice is at the table for the conversation."