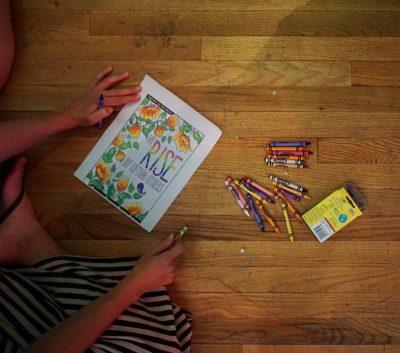 Sexual assault survivors gathered for a night of community and healing at More Than This, a discussion during Sexual Assault Awareness Month to encourage conversation through music, photography, poetry and other creative expressions.
More Than This, a nonprofit organization affiliated with the Boston Area Rape Crisis Center, planned this talk on Sunday evening at the Democracy Center in Cambridge.
Stormy Saint-Val, founder of More Than This, discussed the 12-year anniversary of her assault, and said she wanted to create a space to celebrate her survival and talk about how she found healing in therapeutic creative art.
"As I began telling people about it, they wanted to get involved to empower other survivors and let them know they are more than the trauma," Saint-Val said. "Also, we wanted to inform the community on the complexity of survival hood because there's a lot of stereotypes."
Even though each survivor has a unique story, she said she hopes the event provides a common ground between men, women and those who identify as non-binary.
As music played, attendees gazed upon works of art survivors have created in healing, including poetry, painting, short stories, collages and other artworks. A buzz of support in pain hung in the air while music played in the background.
Attendees then moved to a larger room with different stations that encouraged interaction and self-awareness. These included a resource station with the Boston Area Rape Crisis Center, where they discussed the resources and services that are available to survivors, including counseling, legal aid and advocacy.
A counseling station was set up in the corner, with a counselor available for casual and private conversations with attendees.
It was also important to More Than This that self-care was emphasized at this exhibit, Saint-Val said. With a coloring and meditation station, and tables with butcher paper inviting attendees to explore who they are and what they feel, attendees reflected both privately and together.
The night broke into three segments, starting with "Welcoming and Witnessing," which was reserved for looking at the art and reflecting on healing.
More Than This accepted donations, and in exchange for every $10 donation, there was a raffle contest for a free tattoo valued at $200. After the raffle drawing, the tone switched from excitement to solemness as volunteers and attendees shared live poetry and writings.
Franny Kimball-Katz, 26, of Cambridge, was one of those who shared a poem. She had been part of More Than This since the beginning of the movement, and emphasized the importance of being able to share her art in this space.
"Art therapy-based therapy is important to me," Kimball-Katz said. "At the time of my assault, I was in school for creative writing and after, I lost a lot of creative drive."
After years of healing, Kimball-Katz said she has found her voice again and is currently studying art psychology at Bunker Hill Community College.
"If you feel like there's enough space between you and what happened to you, you can create something so amazing in that way again," Kimball-Katz said.
Mardia Pierre, co-organizer of More Than This, echoed Kimball-Katz on the importance of the creative events they have developed.
"I think that we created space like this, we invite people to step out and talk about sexual assault," Pierre said. "We give them the boost of confidence that they can step out and talk about it, and realize that they're not alone."
This, plus the "beautiful people" they have met and the community they have formed, is what keeps them coming back to these events, Pierre said.
Both Pierre and Saint-Val emphasized that these events are important for squashing stereotypes of sexual assault victims, as they are allowed to be vulnerable and speak openly.
"We didn't ask for this," Pierre said, "but as we break down those stigmas, it is liberating and freeing."