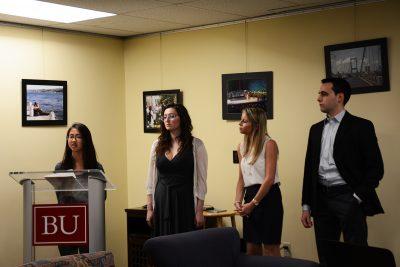 The two slates running in the Boston University Student Government Executive Board election, Your BU and B-trU, held a press conference Monday night in the Howard Thurman Center for Common Ground where they discussed their policies and platforms.
Ramya Ravindrababu and Christina Lucas, co-chairs of the student election commission, said the goal of the press conference was to help the slates launch their platforms before the debate scheduled for Tuesday night.
The debate was originally planned for last Thursday, but since it was moved past the press conference to Tuesday, the commissioners cut the post-debate question-and-answer segment of the press conference.
"Initially, this press conference was going to be an opportunity to answer questions after the debate," Ravindrababu said before the press conference. "Now the debate is scheduled for Tuesday night … [the slates are] basically just launching their platforms tonight."
So far, the election process is off to a smooth start as far as engaging the BU community in the process, Lucas said.
"I think aside from a couple of minor stumbling blocks, we are off and running," she said before the press conference. "I think we have really tried to engage the BU community as much as possible. We're trying to give a new image to student government."
About 10 students listened to candidates talk about their platform's objectives and what students should expect to see from them if elected.
B-trU members covered the four main tenets of their platform: student engagement, diversity, transparency and campus improvements.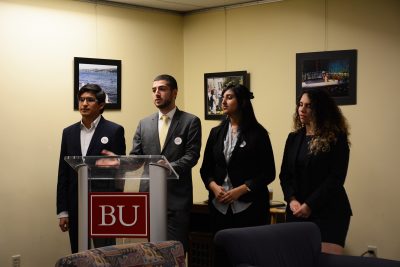 Hector Meneses, B-trU's presidential candidate, said students should vote for B-trU because they have pragmatic plans that maximize student engagement.
"After talking to a lot of students and thinking about what topics and issues are important to them, we came up with the mission statement creating a cohesive BU community where students feel like they're not just here to get a degree, they're here to get an experience," Meneses said before the press conference.
Candidates on the Your BU slate also covered their platform's aims: inclusion, transparency and sustainability.
SaraAnn Kurkul, Your BU's presidential candidate, gave the essence of her slate.
"With our platform, we believe in crafting sustainable initiatives to create a vibrant and connected community for tomorrow," she said during the press conference. "We envision BU as a space where students of all backgrounds can have their voices heard and have their goals supported. Our slate strives to promote collaboration among all student groups and bridge the gap between students and administration."
Your BU's VP of Finance candidate Bernie Lai said she thought the press conference was productive.
"I think it went really well," Lai said at the end of the press conference. "The turnout was a little bit smaller than I expected, but we had a live-stream going, which was amazing. We got to hear policies from both slates and it was so great because everyone was so passionate, so well-informed about everything. I really enjoyed listening to the message of B-trU."
Elliott Pope, a junior in the College of Arts and Sciences, said he thought the press conference was a good opportunity to learn more about the slates and their platforms.
"It was a good opportunity to really understand the slates beyond the two-minute, three-minute spiel that you might get if you're walking through the [George Sherman Union] or when traditional canvassing happens," he said. "I thought it was particularly useful to see what the implications would be for those policy areas and then what tangible changes we might see come about from either of the slates."
Pope said he hopes next year's executive board will follow through on its promise to maintain transparency.
"The transparency in making not only student government from a funding perspective accountable and accessible to students, but also making the structure of student government accessible to students as well is something I care about seeing improved," he said.
AlHassan Hashad, a freshman in CAS, said he thought the press conference was informative.
"It was the first time you see both slates together," Hashad said after the event. "It was nice how they all came in and addressed certain topics. I think [Your BU's] proposal about having a research tree for student government was nice because as an outsider coming in, you really don't know how the system works. Having something there that they can refer to will really help in terms of students getting more involved with student government."