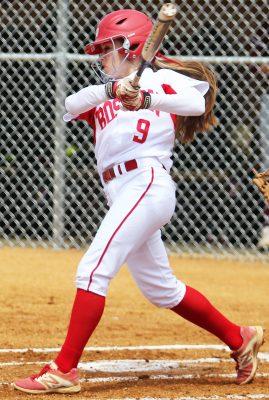 After losing eight games in a row, the Boston University softball team got back on track with a three-game sweep over the College of the Holy Cross this past weekend.
In their Patriot League home-opening series, the Terriers (11-20, 3-3 Patriot League) recorded three convincing wins, defeating the Crusaders (5-19, 2-4 Patriot League) 4-1, 9-3 and 8-0.
Freshman pitcher Kali Magane led the team to two wins, earning the Turnpike Trophy MVP, and the offense was hot, igniting the Terriers to a crucial sweep after not having won a game since March 10.
"[I was most pleased with] our pitchers stepping up and keeping us in games, and then our offense did a great job of generating runs and getting people on every single inning," BU head coach Ashley Waters said. "We had some people step up and execute in key moments, which is exactly what we need."
An important factor in BU's sweep was its pitching. After a six-game stretch in which it allowed 7.2 runs per game, BU held Holy Cross to just four runs the whole weekend.
Waters attributed the pitching turnaround to hard work.
"They come in every day, and we've had a lot of cancellations and I think people might've seen that as a negative thing, but for us it was really positive work," Waters said. "We went back to square one to figure out what works for them and really get them to execute which pitches are their best."
In the first game on Saturday, Magane dazzled. She tossed a complete game, allowing just three hits and walking two while striking out a career-high eight batters. She had a shutout in place until the last inning when Holy Cross' infielder Mandy McCarthy hit a solo home run.
While Magane shut down Holy Cross, the Terriers' hitters broke through in the fourth inning. Senior infielder/outfielder Gabi Martinez got the Terriers on the board with a double, and sophomore catcher Alex Heinen hit a three-run homer to give BU a permanent lead.
Following up on Magane's strong performance was senior Makinna Akers in the second game of Saturday's doubleheader. She also tossed a complete game, allowing two earned runs and five hits.
The Crusaders got to Akers early, scoring all three of their runs in the first inning. However, she settled down and BU's offense jumped on Holy Cross for nine unanswered runs.
Four Terriers had at least two hits in the game, with Martinez and junior infielder/outfielder Jilee Schanda recording three. Meanwhile, senior shortstop Moriah Connolly, who also became the first player in Patriot League history to steal 100 bases in the win, and Heinen had two hits apiece.
"[Connolly] is just a weapon," Waters said. "She's doing a really good job. I think the hard part with Moriah is she's so competitive, and people get on ahead of her, so she wants to score them, but she just has to stick to herself and stick to her game because she's going to get on every single time."
Looking to complete the sweep on Sunday, Magane again took to the mound. She showed no signs of fatigue, shutting out Holy Cross through five innings.
With her team leading 5-0 in the bottom of the fifth inning, junior outfielder Emma Wong stepped to the plate with the bases loaded. She hit a base-clearing triple to left field, ending the game via mercy rule and clinching a series sweep.
Waters said it was essential for her team to rebound early on in the conference schedule after being swept by Lehigh University two weekends ago.
"It's huge," Waters said. "We put ourselves in a hole after Lehigh. We need to do a better job of taking games from people, and even if we don't sweep a weekend, we need to be competitive enough to take at least one game."