Track and field seniors Cameron Williams and David Oluwadara represented the Boston University track and field team well this past weekend at the Tiger Classic, hosted at Auburn University in Alabama, adding to their accolades in their successful final seasons.
Williams competed in the 100-meter and 200-meter dashes, placing first in the 100 with a time of 10.55 and third in the 200 at 20.72. He was also part of the 4×100-meter relay team that placed second in the event at 40.23 seconds, finishing just behind host Auburn, which raced at 39.56.
Oluwadara came into the meet looking to build on his performance last week, when he broke the 32-year school triple jump record with a 16.19 meter leap. He followed up on his record with a first place finish at the Tiger Classic, jumping 15.67 meters. The Boston native also finished sixth in the long jump at 6.96 meters.
Levy leads women's track and field at Tiger Classic
While Williams and Oluwadara led BU on the men's side, senior Toria Levy paced the women's track and field team to a successful weekend as well.
Levy set a new personal best in the 400-meter hurdles, completing the event in 57.12 seconds, which is also the fifth-fastest time in the country this season. Levy had another top-three finish in the 100-meter hurdles, running a 13.8.
Two more Terriers joined Levy in the top 10 of the 100-meter hurdles, as junior Tehya Noell placed sixth and senior Ally Saccone finished eighth with respective times of 14.17 and 14.29 seconds.
Freshman Leah Fowlkes had a good start to her career, placing third in the 400-meter dash and was also part of the 4×100-meter dash team, which finished sixth.
Men's and women's rowing have winning weekends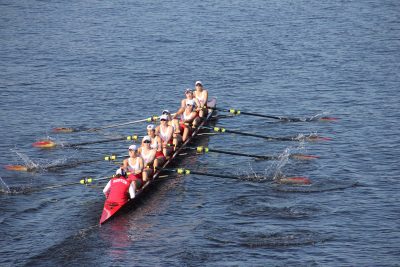 This past weekend, the No.5 BU men's varsity eight rowing team won the Arlett Cup for the third consecutive year, defeating rival No.7 Northeastern University by a wide margin.
On the women's side, the lightweight team had two second-place finishes at the Knecht Cup in New Jersey. BU placed just behind defending victor Stanford University in the lightweight final with a time of 6:46.75, and in the openweight final, the Terriers finished just behind Miami University at 6:45.77.