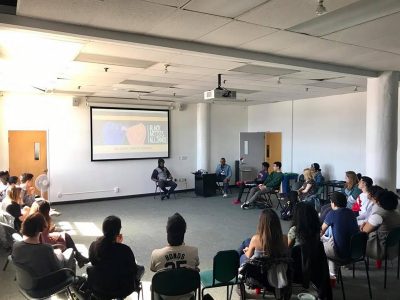 Black Artists Alliance and Company One ONERush hosted a panel on Sunday to discuss the problems facing black artists in theater and the development of the rap scene in Atlanta.
The discussion was held at Boston University's College of Fine Arts and was hosted by Jordan Carter, the co-founder of the Black Artists Alliance, and Jasmine Brooks, the treasurer of the Black Artists Alliance.
Carter, a CFA senior, explained the reason behind the foundation of the Black Arts Alliance and the need for it.
"The Black Arts Alliance was co-founded two years ago, and it was just to promote more black arts," Carter said. "We have a lot of cultural groups here at BU, but there wasn't really a niche for the black arts before."
The program opened with Brooks' presentation on "Celebrating Black Voices in Theater." With script reading, statistics and evocative stories, Brooks illustrated the struggle an artist of color goes through while trying to achieve success in the artistic world, and more specifically, in theater.
"I think the main reason why I wanted to do this event was because many people of color are underrepresented in theatre, in film, in different industries and it was important to me to show people that we have voices and we have stories to tell and that they are not necessarily showcased in the mainstream media," Brooks, a CFA junior, said after the presentation.
One concept Brooks presented was that a story or play written by an artist of color is often misinterpreted to be a commentary on race and rarely viewed as just a story.
"So I wanted to showcase that there are different stories being told by different artists of colors, including different black artists and different Latino artists," Brooks said.
Eric Betancourt, a senior in BU's College of Arts and Sciences, said he felt that while most of the community's attention was focused on getting representation for those who are already in the industry, people should also be talking about how many individuals aren't even aware of the fact that they may have artistic talent.
"I think that a big problem is that a lot of people aren't getting that first level of encouragement to get into the arts or that first level of education necessary to support them through their journey into becoming creative individuals," Betancourt said. "There are too many artists of color that have the potential to be artists but never discover that side of themselves, because they are often not presented with the same opportunities as white kids are at a young age."
Brooks' presentation was followed by Carter's, "How Atlanta became Rap's #1." With an multimedia presentation, he showcased the history of rap and how Atlanta ended up being the rap capital of the world, busting out his own dance moves when required.
"I felt like I needed to do this because a lot of people that listen to rap music nowadays are just listening to sounds of my hometown, it's a part of my culture, and I just wanted to provide them with a bit of backstory to everything that people are consuming nowadays," Carter said.
Carter then introduced Shabazz, the producer and studio manager of Allston-based studio and music store, Mass Apparel. Shabazz provided a New England perspective on rap.
Shabazz talked about how Boston was on its way up while Atlanta took over, and how important it was to promote local artists and help them develop their own musical identity.
"The music people are hearing, whether it be good music or bad music, is an expression of the artist," Carter said. "So if you hear something, it may not be necessarily what they're trying to portray. I mean, music is an expression of oneself, so if somebody is talking about different things in their songs, who are you to tell them not to talk about their experiences?"