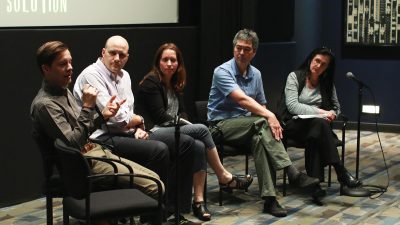 Several Boston student environmental organizations have unified under the #PutAPriceOnIt campaign in an effort to lobby against carbon pollution. The coalition includes Tufts Climate Action, Emerson Eco-Reps, Fossil Free MIT, DivestNU and the Boston University Environmental Student Organization.
The organizations hosted a screening Wednesday night of "Priceless," an episode from season two of "Years of Living Dangerously," a TV and internet project run by National Geographic, which focuses on solutions to climate change.
The #PutAPriceOnIt campaign is sponsored by Our Climate, a national organization of students, said Page Atcheson, executive director of Our Climate. Students who are involved work to mobilize their campuses against climate change and encourage their college and university presidents to endorse the project.
Atcheson said the #PutAPriceOnIt campaign fights for a price to be put on carbon emission. For instance, one way the campaign aims to do this is by charging companies a fee for each ton of carbon emitted.
"The premise is that right now the costs are being borne … by people that are being impacted by climate change," Atcheson said. "By putting a price on carbon, you're basically requiring polluters to be paying those costs."
Carrie Cullen, a sophomore at Emerson College, an eco-rep at the Emerson College Office of Sustainability who helped organize the screening, said climate change is the biggest problem the millennial generation has to deal with.
"Yearly rates of carbon dioxide in the atmosphere have been steadily increasing since the Industrial Revolution and have reached alarmingly high levels in recent years as carbon pollution and industries grow," Cullen said.
Cullen said it is crucial for college students to be educated on prominent environmental issues facing their generation.
"We as students are inheriting an environmental crisis as we enter adulthood, and it is up to us to take immediate action," Cullen said. "I urge students to research carbon pollution, climate change, ocean acidification and become familiar with these issues as well as how they can be prevented."
Elizabeth Ventura, a junior at Northeastern University and an organizer for DivestNU, said the greatest problem surrounding climate change is a lack of public education.
"There is a scientific consensus on the matter [of climate change] and it is not up for debate whether it's caused by humans," Ventura said. "Serious action must be taken now to … lower carbon emissions … restore the balance of ecosystems worldwide and to support those who have been displaced."
Elizabeth Hannigan, a junior in the College of Arts and Sciences at BU and the president of BU's ESO, said climate change is a major issue facing individuals living in coastal regions, especially for those who may not have the resources to cope with climate change.
"I feel as though it is our country's duty to reduce our emissions so that we can stop negatively impacting other smaller countries and societies who should not have to suffer the consequences of fossil fuels that they did not emit," Hannigan said.
Brian Helmuth, an environmental policy professor at Northeastern, said grassroots campaigns like #PutAPriceOnIt are helpful, but society cannot rely on legislation to reverse the effects of climate change.
"Policies can support and nudge things in the right direction, but to be lasting, initiatives have to have legs that survive changing administrations," Helmuth said. "I think students should be absolutely incensed at the raw deal my generation and the generations before mine have handed them."
Robyn Hannigan, founding dean of the School of Environment at the University of Massachusetts Boston, said she thinks #PutAPriceOnIt has been successful with students because it is easy to understand.
"[#PutAPriceOnIt is] an easily digested message," Hannigan said. "I think it's a much more transparent approach than others that have been put forward."