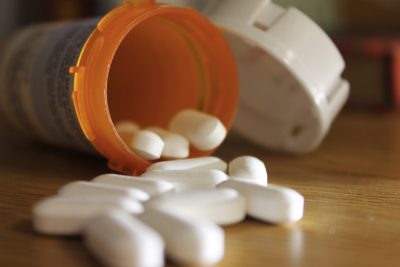 Opioid overdoses are responsible for an approximate two-and-a-half month decrease in national life expectancy in the last 15 years.
The numbers for this change in life expectancy are likely an underestimate, as a specific drug is not included in as many as 25 percent of drug-related death reports, according to a Tuesday study from the National Center for Injury Prevention and Control and Centers for Disease Control and Prevention.
McKenzie Ridings, a senior public affairs officer for the Massachusetts General Hospital Addiction and Recovery Management Service, wrote in an email to The Daily Free Press that Mass General has created the Physicians Organization Opioid Task Force, among other initiatives, to help combat drug addiction as well as treat those with substance abuse issues.
"The Substance Use Disorders (SUDs) initiative at Massachusetts General Hospital is a hospital-wide program designed to transform care for the chronic disease of substance use disorder in order to improve the quality, accessibility, clinical outcomes and value of treatment for our patients suffering with this illness," Ridings wrote.
Ridings wrote that more than 2,100 people died from opioid-related overdose in Massachusetts last year, but the 2017 data reflects less drug-related deaths in the Commonwealth given current numbers.
"Certain populations — such as those who have experienced homelessness, have been released from prisons and jails, or pregnant women — are particularly vulnerable to overdose and death," Ridings wrote. "While these numbers are staggering, recent Massachusetts state data is promising, showing 53 fewer deaths in the first six months of 2017 than over the same time period last year."
Matt Hoffman, the executive director of the Boston Alcohol and Substance Abuse Program, said the decline in opioid-related overdose deaths can be partially attributed to Narcan, an opioid antidote that works to reverse overdose symptoms.
"Narcan is what the [Emergency Medical Technicians] use when somebody has an overdose," Hoffman said. "It blocks it at the neural receptors, so it brings the person back to consciousness immediately."
Hoffman said many overdoses occur because others' deaths are glamorized.
"They had a wave of overdoses in South Boston years ago," Hoffman said. "What they found is the more it happened, the more it happened […] Kids would see how much attention it was being paid and they would think wow that's not a bad way to go."
Hoffman said his agency often deals with patients who have overdosed in the past and require mental and physical rehabilitation before entering everyday life again.
In this way, mental health and drug issues tend to be very intertwined, Hoffman said.
"We deal with all kinds of mental health issues and people using drugs and alcohol," Hoffman said. "On the substance abuse side, we deal with outpatient treatment with all kinds of different drug and alcohol addictions."
Hoffman said he worries too many people are talking about the opioid crisis and not doing anything to stop it which is why his program is trying to work with communities and patients directly.
"I've never seen a problem that was solved by talking about it," Hoffman said. " We have to find the best ways to do something about it … We give counseling and those kinds of services. We also work on the different committees that are working on the problem."
Several Boston residents said they have felt the impact of the opioid epidemic in one way or another, and struggle to think of a solution to such a widespread issue.
Janina Rackard-Vickers, 44, of the South End, said due to the highly addictive nature of opioids, it is difficult to say what can be done.
"It is just an extreme issue in Boston, and it's something that really breaks my heart," Rackard-Vickers said. "My sister actually worked for a recovering center in Fall River and she had to leave the profession because she was like […] 'I felt like I was beating a dead horse.' She was like, 'you give people help but until they really, really, really want it, it's not going to happen'".
One Fenway resident said it is difficult to even begin to address such a complex issue.
"I see it every day, I see people sleeping in our vestibule, in the back of our building, people going hungry, but … how do you address somebody laying on the ground, where do you start with that?" said 30-year-old Amanda Ponte. "It's kind of hard to know where to begin but I guess just giving a helping hand, giving food, something … I guess it starts with acknowledgment and human connection."
Tanya Thomas, a 53-year-old who lives in Dorchester, said she works on the section of Massachusetts Avenue that has been colloquially referred to as "Methadone Mile."
"I see it every day […] young, old, black, white, pregnant, I see it everywhere," Thomas said. "I observe it firsthand every day, walking home I see it, and sometimes it's almost like when you hear something violent happens […] you kind of become desensitized."
Peter McGovern, 28, of Back Bay, said several of his siblings have lost friends to opioid addiction, and believes acknowledging the problem is an important first step in addressing the issue.
"I'm in education, so I believe in the power of dialogue," McGovern said. "I think by dialoguing we help educate each other, doctors, patients, everyone in society included, and I think we need to rethink how we use really hard core medicine like opioids, even in a good way to treat pain."