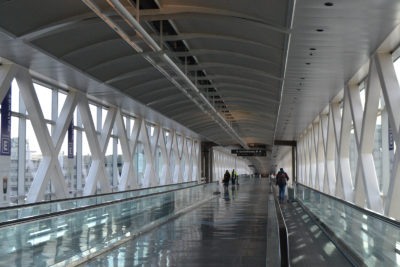 Major security loopholes have come to light at Boston Logan International Airport, prompting city officials and airport staff to push for preventative legislation Wednesday, according to a press release from the airport workers' union, 32BJ SEIU.
32BJ SEIU has reported that 1,500 of Logan Airport's most visible staff are required very little emergency preparedness training, or none at all, according to the release.
The Airport Emergency Training Bill, sponsored by Massachusetts Sen. Joseph Boncore and Rep. Adrian Madaro, would initiate legislation requiring staff working at Logan Airport to receive 40 hours of training in emergency preparedness, Madaro said.
"We saw what can happen with the lack of training recently with the active shooter incident in Fort Lauderdale," Madaro said. "The people closest to that active shooter were baggage handlers and wheelchair attendants. They had no training as to what to do in an emergency situation and they fled and they added to the hysteria that was going on."
Madaro said the public expects airport employees to know what to do in an emergency.
"There's an expectation that anyone who's wearing a uniform at an airport, whether they're a state police officer or whether they're a wheelchair attendant, that they'll know how to respond in an emergency and what to do," Madaro said.
Madaro said the large number of employees at Logan Airport who have no emergency preparedness training do not feel safe in their workplace.
"We all know airports can be targets, in my mind that means any employee at the airport should be prepared," Madaro said. "I see this as a no-brainer piece of legislation."
Boncore said the most alarming thing he had heard from airport employees was that their training on major safety features had come from other employees.
"There's 100,000 travelers going through the airport every day, [and] there's 1,500 workers," Boncore said. "We don't need an additional 1,500 people being hysterical and adding to the confusion if … something ever happens."
Boncore said this program is already being piloted at Los Angeles International Airport and Fort Lauderdale-Hollywood International Airport and he wants to get ahead of any incidents before they could occur at Logan Airport.
"It's important to be proactive in instituting some policies and changes at the airport," Boncore said. "You never want to have to be reactive after a public safety event."
Amity Paye, a spokesperson for 32BJ SEIU, said this bill would train employees who are currently encouraged to run and hide in emergencies to become active responders.
"They would be able to perform CPR if someone is injured immediately or they would be able to help direct passengers to exits and emergency spaces in the airport," Paye said. "They would actually know where those spaces are and would just be able to generally keep everyone moving in ways that are safer."
Paye said she commends Boncore and Madaro for taking the time to listen to the worker's union and hear employees' concerns on this issue.
"Both the senator and representative had spoken with airport workers in the past and this was one of the issues that was brought up during those meetings and during those conversations that they thought would be really important to address quickly," Paye said.
Several Boston residents said they are alarmed employees are not already equipped to deal with emergency situations, and that the required training will prove beneficial.
Mirella Costa, 24, of Allston, said she was shocked to hear the people she trusts to protect her at the airport haven't been properly trained to do so.
"If they're taking care of the security they have to have training to protect the civilians," Costa said. "This is the minimum they can do for security."
Stephen John, 37, of Dorchester, said airport employees have the potential to face national security issues and therefore should be trained on how to handle them.
"Airport workers should be able to respond to any type of emergency," John said. "It's a matter of national security, so I definitely think these workers should be receiving this training. I can't believe it wasn't put into place before."
Erin Meier, 33, of Allston, said terrorist threats will still exist even with security precautions but there should still be some level of preparedness amongst employees.
"I know America is a prime target for terrorism but terrorism is going to happen either way," Meier said. "All in all, I'm glad that these regulations were put into place and I hope big airport security threats at Logan are reduced in the future because of the changes being made."
Jordan Kimmel contributed to the reporting of this article.