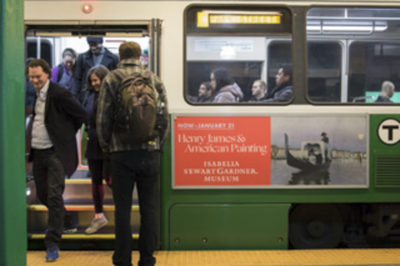 The Massachusetts Department of Transportation is planning an improvement project aimed to restructure the Massachusetts Turnpike in Allston, an effort which would straighten streets, build more parks and create more accessible walking paths.
A major change within MassDOT's plan includes a location for a new West Station commuter rail stop, Lisa Battiston, the deputy press secretary for MassDOT, wrote in an email. The new station would be just west of the Boston University Bridge, an elevated piece of I-90.
Battiston wrote that discussions with the community have led the department to new conclusions on how to improve the area and replace the elevated highway.
"The Transportation Department is not yet committing to any one design because conversations are continuing with community members, elected and municipal officials and other interested parties on what the final scope of the project will be," Battiston wrote.
Conversations are happening frequently between other interested local parties as well, such as through both public and regular meetings with the Allston I-90 Interchange Improvement task force, Battiston wrote.
SJ Port, the director of Development and Communications for the Charles River Conservancy, said their organization has been part of the conversation with MassDOT for over a year and they are keeping the interests of the parkland in mind.
"We are still concerned about the amount of green space that will be created along the river," Port said. "We haven't seen confirmation that that's going to be as expansive as we would like. We are still pushing MassDOT to confirm what they're going to do to increase both the pedestrian and bicycle pathways along the river."
Richard Parr, a former member of the task force on the I-90 project, said he hopes MassDOT will keep community needs at the forefront of their plans.
"There's some concern that MassDOT will just do what they need to do to build the road and there's some pieces like the parkland that will be left for a later phase of the project," Parr said.
Parr said putting the viaduct underground would be more cost-efficient.
"It'd be more affordable to build and it would also be cheaper in the long run," Parr said. "If you build another viaduct, 50 years from now you're going to have to rebuild again. There's a lot of moving parts."
John Weis, a professor of Policy Implications for Communities at Boston University, said he is thrilled that these year-long discussions seem to be moving forward.
"It's probably something that's going to take 50 years," Weis said. "There's still better properties and easier properties to develop, but it'll be interesting and I think it's a great opportunity."
Weis said it will be complicated to knit together the Brighton community with the area east of the BU Bridge due to turnpike and rail lines which intersect the area.
"The ideal situation would be if they could somehow put some of those roads not so much underground," Weis said. "We call it in the trade cut-and-cover, where it's maybe 15 feet below the ground and then you can easily put a bridge straight across instead of having to have a bridge up high."
Weis said a new station could connect communities which are currently limited in accessibility to those outside the center of the city, such as Allston, Brighton and Cambridge.
Felix Zemel, a professor of Innovative Public Policy at the Metropolitan College at BU, said this will not only move a commuter rail into the industrial parts of the city, but it will also provide wider access to residential areas.
"There's a lot of development happening and in the works for projects within a couple of blocks of that new proposed train station," Zemel said. "This will significantly help the overall Boston community."
Zemel said a commuter station will fill the gaps concerning transporting residents just outside of city lines that the Green Line can't.
"It'll provide access into the city from some of the areas that aren't serviced by the Green Line and where a lot of BU students move out and move to the lower Allston area," Zemel said. "This could provide easier public transportation access that isn't available currently."
Several residents said a new station would be helpful, but the city should focus on improving the quality of the area during and after construction.
Wesley Young, 28, of Allston, said although he is a longtime resident of Allston and is used to constant construction in the area, he hopes these particular changes will benefit the neighborhood.
"I've lived in this area for a long time so adding more construction won't infringe on my living situation," Young said. "It'll add to traffic. I remember last year when they were doing the bridge, that was pretty stressful for people commuting by car."
Nina Mitukiewicz, 24, of Brighton, said while construction will be stressful, the overall result will be beneficial.
"I think it increases accessibility for a lot of people," Mitukiewicz said. "Especially with the commuter rail stop. I think definitely it will create kind of a headache in terms of the construction of it but I think it's absolutely worth it."
David Cawston, 40, of West Roxbury, said the streets will be a mess during construction but this will help those who commute each day by train.
"I think it's always a good idea to improve city transportation," Cawston said. "There's always room for improvement but from my perspective, I take the MBTA twice a day because I don't like to drive too much."
Jordan Kimmel contributed to the reporting of this article.