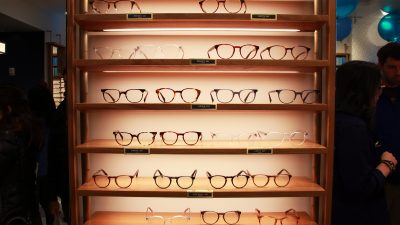 Themed after a classic library book with a featured title of "50 Ways to Lose Your Glasses," Warby Parker opened its doors in the Prudential Center this Saturday.
The company, which is framed around "a rebellious spirit and a lofty objective," was created as an alternative to stereotypically high-priced glasses, according to its website. Its introduction to Boston, a notoriously fashionable and young city, showcases the business' historic aim to fill a niche.
The opening was inaugurated with the sale of a branch-specific specialty frame, a pair of Percey Sunglasses in Charcoal Fade and Flash Mirrored Pacific Blue lenses which is only available for a limited time at this specific store. An original mural of the exterior of the Prudential Center was designed for the store by Jason Munn, a graphic and poster artist who has collaborated with Warby Parker on several other locations as well, according to the company's press release.
Dave Gilboa, the co-founder and co-CEO of Warby Parker, talked about how excited he was with the new location and what it entailed.
"We are thrilled to be expanding in Boston with a store inside the iconic Prudential Center!" he said in a statement sent to The Daily Free Press. "Boston has always been one of our favorite cities — since we first visited in 2013 as part of the Warby Parker Class Trip to when we opened our second-ever retail location on Newbury Street. We're looking forward to planting additional roots here!"
One aspect of the company that has always stood out has been its focus on affordability and convenience for the customer, attendees said.
Kelly Burke, 40, of South Boston, talked about how she had been anticipating the new Warby Parker opening for ages now, and how she was really excited to get a new pair. What initially drew her to the store was essentially their novel online shopping policy as well as their reasonable rates as opposed to other brands out there, she said.
"What's exciting about Warby Parker is that they were one of the first in this type of category [with] the idea that you can order online and they can ship you a few pairs of glasses for free and you can ship them back," Burke said.
She continued to talk about how Warby Parker's entrance adds affordability to an otherwise "pricey business."
"I for one started wearing glasses about 20 years ago, and they were around the $500 price mark, and now businesses like Warby Parker and Zenni [Optical] and some others are allowing people to not just have one pair of glasses, but swap them out the way they would their handbags or jackets, seasonally or as their style is changing," she said.
This sort of niched approach that targets a very specific problem seems to be a trend that several new companies are taking.
Skelmet Inc., a Cambridge-based startup, focuses on making custom-made sunglasses that perfectly fit one's face. Primarily catering to the needs of athletes, this brand also aims to provide people with sunglasses that actually fit them properly, through 3-D printing and data analysis.
Yuri Cataldo, the marketing director of Skelmet, explained that a frame of generic size and shape can't perfectly work for the entire population, and that's where the company comes in.
"Well, with anything, you need to focus on a core demographic of people for initial sales," Cataldo said. "But alternatively, as our sales are increasing, we're realizing that [there's] a lot of different kinds of people who need sunglasses."
He added that marketing a product for a particular niche, doesn't mean that other populations or groups won't benefit from the creation.
"So while primarily our focus is on people who are athletes and need a pair of sunglasses that are ultra light and fit their face well, but this is also for anybody out there who has had a problem finding sunglasses that fit, which is like, 80 percent of the population," he said.
Comparing the aims of a startup like Skelmet to an established company like Warby Parker, one can see that conscious consumerism continues to have an uptick and prominence, regardless of staff or size.
For example, Amy Donahue, 26, of Milford, explained the genius behind Warby Parker's "Buy A Pair, Give A Pair" program. When a customer buys a pair of Warby Parker glasses, the company makes a donation to nonprofit partners that fund glasses purchases and eye care education, according to the company's website.
"I work for a nonprofit," Donahue said, "so the fact that they have a good cause behind their business model is a really attractive part of why I wanna give them my business."