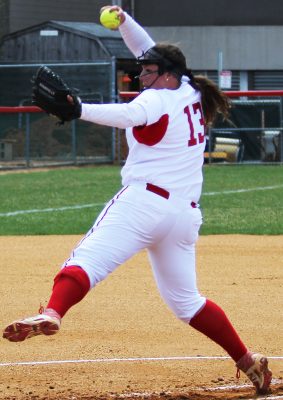 Looking to move up in Patriot League standings, currently sitting at .500, the Boston University softball team will take on conference foe, the United States Military Academy, in a three-game series this weekend at home.
The Terriers (11-21, 3-3 Patriot League) lost their last game against crosstown rival Boston College 3-1 on Wednesday, but had previously swept the College of Holy Cross in a three-game series this past weekend for their first wins since March 10.
After a rough 8-18 start to the season before entering conference play, BU has been on both sides of sweeps, so the three games this weekend against Army (27-12, 7-2 Patriot League) could prove to be a turning point in the season.
BU head coach Ashley Waters, though, thinks that every Patriot League matchup is critical, regardless of when they take place.
"Every game matters in conference," Waters said. "Once you get to the playoffs, anything can happen and I think we made that an example last year. We just need to do our job and take it game at a time, chip away and take games on the weekend."
The Terriers will look to build on their three-game Patriot League winning streak, but Army has been one of the best teams in the conference this season, currently sitting in second place, one game back of Lehigh University.
The home field advantage can tip the series toward BU, as it is 3-1 at home compared to its combined 8-20 record at away and neutral fields.
However, Waters does not think home field will play a significant role and remains cautious of Army's ability.
"Army has a great team," Waters said. "They are an athletic team, they move well, they can put the ball in play, they can make defensive plays. They have a sophomore pitcher, Renee Poirier, who does a really great job for them, but offensively we need to have our game on and our pitchers need shut down their offense. One through nine, it's going to be a very tough lineup to face."
Army's strength comes from their clutch hitting and pitching, which ranks second in the Patriot League in ERA and home runs allowed. The Black Knights rank first in the conference in RBI with 148 despite having a .270 batting average, which ranks fourth in the Patriot League.
Waters has not officially declared who will start against the Black Knights, but has a good idea of whom the Terriers will trot out on the mound.
"For me, I go on practice plans, and who looks good throughout the week, but [freshman] Kali Magane and [senior] Makinna Akers are taking the brunt of the innings based on what they have done and continue to do," Waters said. "[Freshman] Lizzie Annerino is getting herself to a better spot. I wouldn't be surprised if we saw all three this weekend, and I wouldn't be surprised if someone steps up and shuts them down."
All three of those pitchers took the mound against Boston College (24-14) on Wednesday. Annerino started and pitched two scoreless innings before giving way to Akers. Though she struggled early on, Annerino can prove to be a major asset to the Terriers rotation if she can establish herself as a consistent No. 3 pitcher. Waters may test her this weekend to see if she can follow up her performance against the Eagles.
The Terriers had been on a roll offensively until they met BC and ace pitcher Jessica Dreswick in their last game. They will look to revert back to the prior three contests against Holy Cross (6-20, 2-4 Patriot League) to find their offensive groove.
"I'm happy with their growth and we just need to continue to progress," Waters said. "Our offensive lineup should be one of the best in the conference. We just need to get back to what we did against Holy Cross and build off of that."