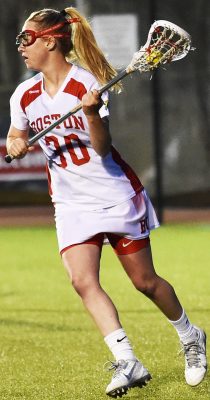 The Boston University women's lacrosse team tallied a season-high 20 goals en route to defeating Lafayette College 20-16 in its last game. The 20 goals came from offensive outbursts via several Terriers, including an outstanding performance from junior attacker Avery Donahoe.
The Alexandria, Virginia native tallied six goals, along with an assist, to propel her team to victory. For her performance, Donahoe was named Corvias Patriot League Attacker of the Week.
Donahoe's six goals marked a Terrier record, as it is the most goals scored by a player since Danielle Etrasco scored seven goals against the University of Vermont during the 2013 season.
For Donahoe, strong offensive production is nothing new, as she has helped pace the Terriers offense all season long. Donahoe is tied for third in points (27) and is tied for second in goals (21) on the team.
BU head coach Liz Robertshaw credits Donahoe with much of the team's success thus far.
"She came back this year a ton more confident," Robertshaw said. "It's allowed us to have three main scoring threats."
Freshman newcomers make big impact on Robertshaw's squad
After losing several key members from the 2016 team, Robertshaw called upon her younger players to collectively step up and replace the lost production. So far, four members of this year's freshman class have had sizeable impacts on this year's team.
Midfielders Mackenzie Howe, Lexi Lewis and Christine Carugati, as well as attacker Kailey Conry have all had profound impacts on the Terriers' offense this season. Conry and Howe have seen the most action, with each of them making eight starts thus far.
Conry has tallied a team-high 32 points. While she only has five goals on the year, she leads the team with 27 assists, demonstrating her ability to make plays for teammates. The Needham native has recorded at least three assists in her last seven starts dating back to March 5 against San Diego State University.
Howe has also seen her fair share of playing time, starting in each of the Terriers' last seven games. Her most notable performance came against Patriot League foe Bucknell University, in which she tallied four of her six goals on the season en route to a 13-8 Terriers victory.
"They put their heads down and have gone to work," Robertshaw said of the freshmen. "They were recruited here for specific purposes … I know their teammates and coaches have encouraged them to take risks and because of them doing that, you are seeing them feel more comfortable in the college system.
With four Patriot League games remaining, Terriers fight for PL tourney berth
With four Patriot League contests remaining, Robertshaw's squad is battling for a berth in the Patriot League tournament.
The Patriot League tournament features the top six teams with the best conference record. Currently, BU sits in fifth place with a 3-2 conference record, tied with rival Bucknell (8-4, 3-2 Patriot League). The pack ahead of the Terriers includes Loyola University Maryland, the United States Naval Academy, Lafayette (9-4, 4-1 Patriot League) and Lehigh University. Of the four teams ahead of BU, the Terriers are 1-2 and will play Navy (9-3, 4-1 Patriot League) on Saturday.
With just four games remaining and a two-game lead over seventh-place College of the Holy Cross, the Terriers appear set for their fourth straight tournament appearance.
While Robertshaw is happy with her team's play, she knows that they have higher aspirations than just a tournament appearance.  
"It's been the goal of the team every year to get into the Patriot League championship," Robertshaw said. "I feel right now we are still in a position to get into that tournament. But, that means we need to win every game right now and that is the mentality of the team."
The Terriers have been successful in making it to the tournament, but have not seen much success once there. BU has advanced to the Patriot League championship game just once over the past three years, and is looking to capture a league title this season.
"Every game matters and we'll take it one game at a time," Robertshaw said.