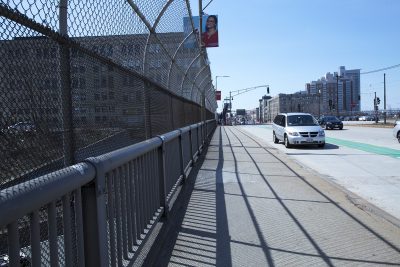 By Natalie Carroll and Sarah Wu
The Massachusetts Department of Transportation will replace the Commonwealth Avenue Bridge this summer, significantly impacting traffic in the Boston University area, according to a MassDOT press release issued Monday.
MassDOT Highway Administrator Thomas Tinlin said at a press conference Monday morning that the Commonwealth Avenue Bridge was constructed in 1965, and because of its old age and structural deficiency, it is being replaced as part of an $82-million building contract with Walsh Construction Company.
Tinlin said the summer of 2017 was supposed to be the second summer of construction, but in 2016, MassDOT discovered an issue with the design of the steel and halted moving forward with the plans for replacing the bridge.
Now, construction is slated to take place in two phases: one in the summer of 2017 and one in the summer of 2018, Tinlin said. The bridge will be closed for approximately 18 days for construction this summer, which will impact residents in the area.
"During the summer of 2017, the construction will … have far-reaching implications on the [Massachusetts Bay Transit Authority] Green Line, BU Bridge … MBTA bus service, [Interstate 90], MBTA Commuter Rail as well as Amtrak," Tinlin said.
Tinlin said MassDOT will provide alternative forms of transportation to ease congestion. For instance, while the MBTA Green Line is closed from the Blandford Street Station to the Babcock Street Station, it will be replaced by a bus shuttle service.
MBTA bus routes CT2 and the 47 bus will be detoured from their normal routes for 17 and a half days, Tinlin said.
From 7 p.m. on July 27, through 5 a.m. on Aug. 14, Commonwealth Avenue from the Packards Corner Station to Kenmore Square will be closed except for private vehicles and trucks, according to the release. In addition, Tinlin said construction will affect traffic on I-90 for nine and a half days.
"It will go from four lanes down to three lanes so that we can do some construction for the crane that will be involved in the demolition and reconstruction," Tinlin said.
MBTA Deputy Chief Operating Officer for Service Performance Todd Johnson said at the press conference that service for the Framingham/Worcester Line of the commuter rail will also be suspended between Boston Landing and the South Station Train Terminal for two weekends, July 29 to 30 and Aug. 5 to 6.
Johnson said in order to make residents aware of the upcoming changes on Commonwealth Avenue, MassDOT will be working with the MBTA to send out alerts such as tweets and other similar announcements about the project.
"We will begin a campaign of public address announcements in stations and our trains," Johnson said. "We will add additional station personnel to provide customer assistance."
Amtrak services will also be closed for two weekends, but the company does not anticipate any major effects, said Amtrak spokesperson Mike Tolbert.
"We will use a bus bridge to replace service between any affected locations," Tolbert said. "Passengers should use a bus to go between the two locations … it would replicate the original services."
MassDOT spokesperson Patrick Marvin wrote in an email that the department has backup plans prepared in the case of any unforeseen circumstances, such as weather or other difficulties.
"MassDOT is working diligently with its partners throughout government and key stakeholders to develop plans for all possible scenarios for this project," Marvin wrote.
Several Boston residents expressed concern about the construction project and the various impacts it may have on their daily travel.
Nasreen Broomand, 25, of Allston, said she uses the Green Line often and would have preferred if MassDOT had made the public more aware about the project earlier on.
"I wish they had done more to advertise, like put a sign on the train," Broomand said. "They are good at directing people though, when there is construction going on."
Sara Clamage, 24, of East Boston, said she takes the bus around the Kenmore area and expects construction will impact many individuals who also use transportation services in the area.
"It seriously does change the way people will have to commute," Clamage said. "Now people are going to have to change how they get to work and that does impact the community, even if it's for a short time,"
Jonathan Russell, 27, of Kenmore, said he hopes the alternative travel routes and modes of transportation will work well for those who are impacted by the project. He also said announcements about the bridge's construction should have been made earlier.
"I'm lucky because I live in Kenmore and I'm not necessarily affected, but other people in Allston or Brighton definitely are," Russell said. "They should make a bigger announcement earlier, and at the different T stops. People don't always read the newspaper for this stuff."