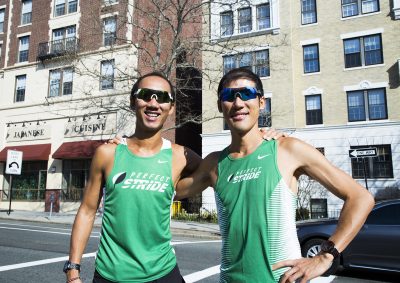 Paul Chan had been running for eight months when his brother Eric proposed they tackle the Marathon des Sables, a 250-kilometer self-supported ultramarathon, then set in the Sahara Desert. Eight desert ultramarathons later, the Chan brothers now hold the Guinness World Record for running the most desert ultramarathons in one year.
After watching the documentary "Desert Runners," in which a group of runners complete four desert ultramarathons in a year, Eric wondered how many desert races it was humanly possible to run in this amount of time.
"What is the limit?" Eric asked. "Yes, the record is six, but how many can you actually do, physically … and we found out that, without overlapping races, you can do eight."
On a mission to test the limits of human endurance, the Chan brothers, from April 2016 to February 2017, took on eight of the world's toughest deserts, from the scorching rays of the Sahara to the bitingly cold winds of Arctic Sweden.
Until recently, though, the Chan brothers were testing their endurance in Toronto's startup industry.
"I was just sick and tired of working 16-hour days," Paul said. "We wanted to take a break … and we've always wanted to visit Central and South America … so we took six months off to go on the trip."
During their vacation, the brothers reconnected with nature on hikes through the Amazon rainforest, simultaneously marveling at its beauty while being concerned about its preservation.
"It also opened my eyes to see what the rainforest is like and the destruction that's been going on in the area as well," Paul said.
Inspired by his experiences abroad, Paul decided to take up running upon the brothers' return home. After running his first half-marathon, Paul asked Eric, a seasoned marathoner, to help him train for his first marathon.
With only six months of training, Paul finished the Mississauga Marathon in three hours and five minutes, officially qualifying him for the Boston Marathon.
Shortly afterward, Eric approached him about running the Marathon des Sables together.
"I thought he [had] gone insane," Paul said. "Because at that point I'd only been running for eight months … I didn't think I [could] run an ultramarathon, never mind breaking any world records."
But after watching "Desert Runners," the film that inspired Eric, Paul said he was convinced. Together, they designed the 8 Deserts Challenge, a carefully planned year-long itinerary of eight self-supported desert ultramarathons, totaling 2,000 kilometers of running.
"But there's a challenge on top of the challenge … a lot of these running races happen seasonally," Eric said. "Between the period from September to November, we had to run four [ultramarathons] in six weeks."
Already fighting mounting fatigue and jetlag with little time for recovery, the Chan brothers faced an even greater challenge: the conditions of the deserts in which they ran. During the Trans-Pecos Ultra in Texas, Eric suffered a fall that nearly took him out of the race.
"I was looking, as I fall, I saw a cactus," Eric said. "Now, obviously, your instinct was to stop yourself from landing on the cactus, it's either your face or your hands. A inso-inch cactus spine went straight through my hand … Finally I reach a checkpoint … and the doctor was trying to pull it out and it was so painful that they had to use Novocaine."
Every obstacle they faced, they faced together.
"I really wanted to quit," Eric said, on getting injured during the Trans-Pecos Ultra. "I was in a dire situation. I did not want to go on anymore, but what got me through it was my brother."
Trasie Phan, the brothers' manager, said she believes their bond is important to their success.
"I think that sense of how much they care for each other because they're family was one of the forces that helped them finish the challenge," Phan said.
Now, the Chan brothers are taking on the Boston Marathon and fulfilling a longtime dream.
"When I first started running, I never heard of any desert race … the most prestigious race I heard about was Boston," Paul said. "And that was my first goal in my running career. I wanted to qualify for Boston."
Paul, who recently sustained an injury to his iliotibial band, said he has no expectations for his performance in the marathon. Eric said he will run alongside his brother.
Paul wrote in a message after the marathon that "things went smoothly along until the 17 mile mark," but then he started to have serious cramps. His brother, wanting to cross the finish line together, waited and walked with him several times during the race.
"It was the most painful marathon thus far," Paul wrote. "Nevertheless … [I] wouldn't exchange this experience for anything else!"