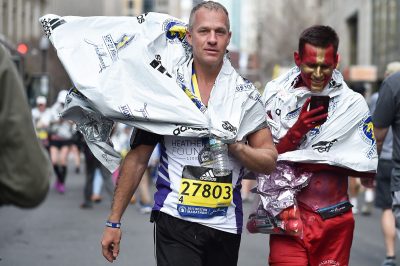 Boston locals joined with residents from other Massachusetts cities and communities across the world to support the runners of the 2017 Boston Marathon.
Several marathon goers have personal connections to runners, while others go to honor family traditions. Some who attended the Boston Marathon this year said it was their first time watching the race in person.
Shawn Frenchwood, 39, of Brookline, for instance, said he just moved to the area and has been looking forward to participating in the festivities surrounding the Boston Marathon ever since.
"I've never been to the Boston Marathon and wanted to come," Frenchwood said. "That's one of the big things I wanted to see since I moved here."
Fiona Lucas, 56, of Melbourne, Australia, is also new to the Boston area. She said although she's only living here for a couple of years, the Boston Marathon is one event she knew she had to attend.
"How could you be in this gorgeous city and not come and watch such an iconic race?" Lucas asked.
Others, such as Tony Putz, 46, of Allston, have been coming to the Boston Marathon for years.
Putz said he's watched the marathon so many times he's lost count, but estimated he's been 12 or 13 times.
"I'm out here because I have a day off work, and I'm with some friends here just enjoying the day, cheering everybody on," Putz said.
Christopher Thomas, 36, of Haverhill, said he's been volunteering with the American Red Cross for 10 years and working at the Red Cross medical tents at the Boston Marathon for five.
"We have the same group of people that come together every year in the medical tent and it's great camaraderie," Thomas said. "It's a lot of fun to work together and see the same faces year after year and volunteer for the cause."
Thomas said the Boston Marathon bombing in 2013 encouraged him to become even more involved with his volunteer work for the Red Cross.
"I had a couple of friends who were running, my boss was running, his wife and one kid was walking toward the finish line when everything hit the fan," Thomas said. "I knew there were so many more things I could do."
Four years after the bombing took place, several people said they still remember exactly what they were doing when the bombs went off.
Melissa Shumway, 38, of Chandler, Arizona, a police dispatcher for the Chandler Police Department, said she was at work when the attack took place and watched it on television with her coworkers.
This year, she attended the marathon to cheer on a friend, and said she feels lucky to be in attendance.
"I keep telling my friend that it's surreal to be here, to be standing right next to this [memorial] wreath, I just keep looking around like it's crazy," Shumway said. "The spirit of Boston is amazing."
Rob Agar, 40, of New Brunswick, Canada, said he came to Boston because his wife is running the marathon for the first time, and recalled a nerve-wracking memory from the day of the bombing.
"My friend was in the marathon … and I just hoped he was safe, and it turns out he was," Agar said. "He was miles behind everything that happened and I was happy to hear that."
Kenia Villa, 24, of Lawrence, said watching the marathon was a tradition in her family until the bombing.
"When I was little we used to watch it every year growing up, and after the Boston bombing, we just didn't come for the past few years," Villa said.
Villa said she took up the tradition again this year, bringing her daughter for the first time.
"It's exciting for my daughter to get to see this because I got the experience, and now she does, too," Villa said. "We watch it from beginning to end."
Villa was not the only member of the crowd who sees the Boston Marathon as a family affair.
Kathleen Ray, 57, of Cincinnati, Ohio, said she's attending the marathon to show support for her husband Steve, who suffered a heart attack only a few years ago.
"He's just such an amazing man," Ray said. "He had a heart attack in 2013, at the age of 50. Since, he's been so on course to train and says he keeps running from the Grim Reaper.  It's such an honor, and we're just thrilled to be here."
Nancy Gapp, 52, of Highland, Michigan, said her son is running the Boston Marathon for the first time, so her family made the trip to Boston not only to see him cross the finish line, but also to experience the marathon with a community of people united in support of the event.
"Boston is awesome," Gapp said. "It seems … real close-knit. We're all in here together and we're here to support one another. It's like a family."
Shannon Larson, Till Kaeslin, Haley Fritz, Sabrina Schnur and Laney Ruckstuhl contributed to the reporting of this article.