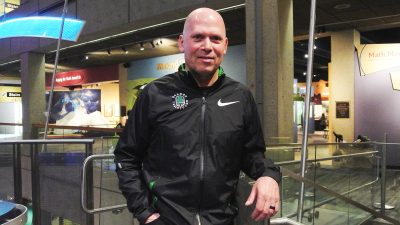 When Marathon Coalition coach Rick Muhr first qualified for the Boston Marathon in 1979, his time was two hours, 59 minutes and 55 seconds — exactly five seconds under the three hour qualifying time. Upon hearing that his time made him eligible for the Boston Marathon, his immediate reaction was questioning just what the Boston Marathon was.
Now 38 years later, Muhr has trained and motivated over 21,000 runners to achieve the same level of success that he accidentally accomplished.
Muhr is the head coach of the Museum of Science team for the Boston Marathon, among 22 other local Boston charities. The Museum of Science, through the marathon, is raising money for their Traveling Programs, in which museum scientists visit schools and educate the children and spark an early interest in scientific discovery. Muhr's son had participated in the program, which led him to work with the museum.
He said that he didn't originally intend on coaching but did so to fulfill a promise to his late mother, who passed away in 1996 from leukemia.
"Before she passed, I had an opportunity to speak with her," Muhr said. "In that conversation, I promised I would do something significant with my life. I gave the eulogy at her funeral in Illinois and flew back to New England and began the grieving process, and for me, that involved running."
While running the Ocean State Marathon in Rhode Island in memory of his mother, Muhr said that he kept seeing signs for the Leukemia and Lymphoma Society throughout the race. "Long story short, I became the head coach for the Massachusetts chapter of the Leukemia and Lymphoma Society," he said.
In his time at the Leukemia and Lymphoma Society, he, along with other individuals, raised $65 million for leukemia research. After 15 years, in 2008, he left the Leukemia and Lymphoma Society to start his own coaching company, Marathon Coalition.
Several runners who trained under Muhr's program reaffirmed his ability to encourage and motivate others to fight through the physical and mental burdens that come with running any marathon.
Runner Laura Coleman wrote in an email to The Daily Free Press that he has a personal connection with each and every one of the 200-plus runners he trains.
"When you're with him, he is fully there with you, fully in the moment, cheering you on, encouraging you, giving you what you need to keep pushing," Coleman wrote. "He is authentic and cares deeply; this comes through in everything that he does. With every high five that he gives to runners along the course, he passes along some of his magic."
Jen DaPonte, a Boston Marathon runner also trained by Muhr, described her experience with his coaching style.
"I love how he can really work with people of all different levels," DaPonte said. "You can be a qualified runner, you could finish a marathon in five or six hours, but he's going to feel just as proud of you. You want to do well for him because he believes in you."
DaPonte also recalled her own experience of Muhr's encouragement.
"When I called him at the end of the Chicago Marathon, told him I beat the qualifying time for Boston by five minutes, he later told me that that conversation would forever be echoed in his heart, and getting that phone call was better than when he actually ran Chicago and qualified," DaPonte said.
Runner Laura Gassner Otting echoed a similar sentiment, noting in an email that Muhr "comes back with fresh empathy, love and energy to [shepherd] his runner through whatever — real or perceived — roadblocks are in their way."
In a physical sense, Gassner Otting wrote that he took apart her "running form and put it back together stronger; he took apart my doubts and concerns, and built my confidence; he energizes, fuels, and moves — really deeply moves — every runner to dig deeper within themselves."
Otting, Coleman and DaPonte all said that they would still be willing to run the marathon if they weren't trained by Muhr, but their experience would be drastically different. From emotional encouragement to physical form, the simple thought of the pride that Muhr puts in each runner motivates them enough to make it across the finish line, they said.
"Every mile of that marathon, I am thinking of him; I am thinking of the form, where to place my hands … keeping a positive attitude throughout," DaPonte said. "If I didn't have that constant belief that he had in me that I could do it, I probably wouldn't have been able to get through the run as comfortably. I don't think I would be a qualified runner without him."
Coleman emphasized how Muhr made her realize the true essence of the Boston Marathon without him.
"If Coach Rick hadn't been part of my experience," Coleman wrote, "I would have put in the miles and I would have run the marathon, but I wouldn't have felt as deeply as I do the honor that is running the Boston Marathon."
This article has been updated.