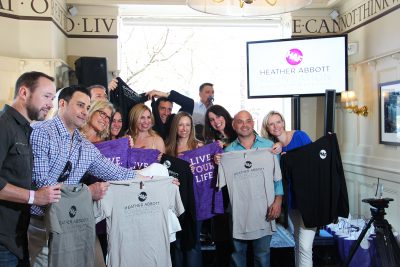 The Heather Abbott Foundation held its pre-Boston Marathon brunch fundraiser on Saturday to raise funds for their foundation, which gives prosthetic devices to limb loss victims. The nonprofit also celebrated the funds raised by their marathon team Limb-it-Less, while giving them a send-off before the marathon. Although they hold this brunch every spring, a new award, the Heather Abbott Foundation Helping Hand Award, was introduced this year, granted to participants who helped further the Heather Abbott Foundation cause.
The fundraiser, held at the Met Back Bay, and was attended by several beneficiaries, runners, well-wishers and their families. With live music and a steady stream of food and drinks, the attendees socialized, showing that the foundation was a community and a charity.
Heather Abbott, the founder, explained why she created the organization and the challenges many individuals face. She started it a few years ago after she lost her leg in the 2013 marathon bombings.
"We founded it about two and a half years ago after I lost my leg to the marathon bombing four years ago and was introduced to the world of prosthetic devices," Abbott said.
She elaborated on how these prosthetics are expensive and that they are not exactly covered by health insurance.
"Not much is covered by health insurances by way of advanced prostheses used for things like running or athletics or anything cosmetic, things like that, that insurance doesn't consider necessary usually," Abbott said after the brunch. "So people are on their own to pay for things like these and they're very expensive, so the foundation helps with this."
She also talked about the importance of the annual fundraiser and the marathon team, and how they both help with expenses and emotional support.
"Each year we have a fundraiser during the weekend of the Boston Marathon because it's obviously a significant time in my life and we also have a team that runs in the marathon and helps us to raise funds," Abbott said. "This year we have nine runners who have helped raise over $76,000 through the course of their fundraising and campaigning activities."
Abbott honored the marathon runners when she addressed the gathering toward the end of the fundraiser. She introduced the new Heather Abbott Foundation Helping Hand Award to those who contributed significantly to the foundation's mission.
The first award was given to David and Francine Ricupero, who helped support the foundation through its early stages and gave significant financial aid as well.
Barbara Priest, manager of Tiles Plus More, won the second award. She was involved in several aspects of the organization and provided help wherever she could, she said. Priest's Tiles Plus More donated various supplies to help Abbott rebuild her home after the 2013 marathon, but with the goal of creating a space that wasn't blatantly a "handicap accessible" house. They worked to bring wood floors, a new bathroom, shower system and other maintenance products to Abbott's home.
Hillary Cohen, 27, of East Walpole, had a similar story to tell. She spoke about how she attended the brunch in order to support the cause that had helped her so much. She was introduced to Abbott when she had her leg amputated three years ago, she said. She was the first recipient of a prosthetic limb from the foundation.
"I just want to give back to the foundation and help her out in any way possible," Cohen said. "The fact that Heather has given me this high-heeled leg with this beautiful cosmetic cover on it that's so lifelike has been life-changing for me."
Frank Scanlan, CEO of the foundation, said he was just grateful for the people who contributed to the cause and stuck with it. Fundraisers such as these were really useful in getting the word out about the foundation and reaching more people who needed help throughout the United States, he said.
"We just really appreciate all the people who are here today who come back every year, as well as the new faces because without them there's no way we could achieve this," Scanlan said.
Abbott reflected on her struggles and gave a few words of advice after the fundraiser.
"I've learned to embrace the difficult things that have happened, the things that I can't change, and try to do the best I can with them," Abbott said. "Everybody's going to run into situations like that in their lifetime, and hopefully they will take this advice from me and have the strength to face their own adversity."