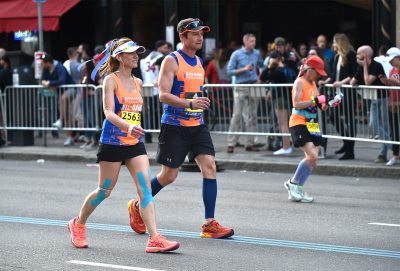 The Boston Marathon has proven to be more than a run. It's an event where Boston's patriotism, pride and strength arrive in the town of Hopkinton and soldier toward the glorious finish line on Boylston Street. For Boston University's Questrom School of Business students and faculty — Hilary Hall, Melissa Rogers and Ameera Hammouda — the marathon is mostly symbolic.
Hall, an MBA student who will graduate from Questrom's Health Sector Management program this May, said that "running is [just] an added bonus."
For the two-time cancer survivor, the marathon hinges upon her fundraising for the Dana-Farber Cancer Institute.
"The first year I started running, I was actually working at Dana-Farber in bone marrow transplant, and I heard about the marathon," she said. "That year was going to be the 15th anniversary of my bone marrow transplant, which I had because I had [acute myeloid leukemia] — a type of leukemia — when I was a kid … so I figured as the 15-year celebration this would be perfect."
While the 2011 Boston Marathon was Hall's first time running the marathon, it most definitely was not her last. She said she decided to come back this year, her fifth time running, because it is hard for her to stop running when she knows that people are still being diagnosed with cancer.
"I thought it was going to be a one-time deal, but in that first year I think I raised like $20,000 — more than $20,000 — and ended up getting hooked because the Boston Marathon is just an incredible event whether you're a spectator or running," Hall said.
As a charity runner, Hall set her fundraising goal this year to $23,000, the sum of how many years both leukemia-free and breast cancer-free she is.
Each marathon brings a different emotional response, she said.
"[Last year] was my first year back after the breast cancer, and my son actually is old enough to run … so, he got pulled over the barricades on Boylston, and he finished with me," Hall said. "It was pretty awesome because, you know, the year prior I didn't know if I was going to be able to ever run again."
This time around, with the support of her family, friends and fellow Questrom students and colleagues, Hall will run her fifth Boston Marathon with resilience — a bedrock of the Boston Marathon.
Rogers, director of development at Questrom, possesses a similar strength.
Recently diagnosed with a stress fracture in her femur, Rogers is currently navigating around on crutches. After X-rays and MRIs, she said she had to make the painful decision not to run the marathon, terminating the training she has been doing since the end of November.
The decision, which Rogers described as " an emotional letdown," still allowed her to focus on fundraising for a charity that is very dear her heart: the American Foundation for Suicide Prevention.
"In September of 2007, I lost my brother to suicide, and he was only 30," Rogers said. "[This year] is the 10-year anniversary of that event, and I thought, 'What could I do that would really honor him?' So, that was how I came up with the whole idea."
The AFSP has a very small team "of survivors of someone who has taken their life from suicide," Rogers said.
While she mentioned it will be "bittersweet," Rogers said she plans on cheering on her fellow teammates. While she may not be able to run the Boston Marathon, Rogers said she has found meaning in using the event to fundraise and honor her brother.
Questrom junior Ameera Hammouda is also grasping the opportunity as a way of fundraising for an important cause — Goodwill's "Running for Great Kids" program.
"[I'm fundraising for] a youth initiative program, which helps kids in underprivileged areas in Boston cities like Dorchester and Roxbury," Hammouda said. "All the money will go toward getting them food, educational resources and things they need for school."
After suffering from a bone dislocation that lead to tendonitis, Hammouda said she almost had to withdraw from the marathon. Fortunately, her injury will not cause permanent damage, allowing her to still participate.
In true Boston Strong spirit, Hammouda said she is eager to cross the finish line, fulfill her college goal and take a sigh of relief after the tumult of her injury scare.
"I'm running because I like a good challenge," Hammouda said. "Especially with my new injury this will be really hard to get through. I think having all the people cheering me on will make it so fun [along with] the adrenaline. I'm very excited that I'm able to run."