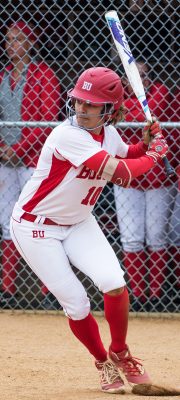 After sweeping Patriot League rival United States Military Academy in three games this past weekend, the Boston University softball team seemed to have put it all together after an inconsistent start to the season.
However, the Terriers (14-24, 6-3 Patriot League) have now dropped three in a row following an extra innings loss to University of Massachusetts Lowell on afternoon and a doubleheader sweep at the hands of Marist College on Wednesday.
BU dropped the first game 5-3 and the second game 8-2.
BU head coach Ashley Waters said her team has to do a better job of being ready for every game.
"Every team we play right now, you should assume everyone is competition and everybody's going to be good enough to beat you," Waters said. "I think that's the part we're struggling with, showing up for us isn't automatic. We actually have to show up and play good softball to win games — it doesn't just happen."
While the Terriers' hitters were on a roll this past weekend, their bats went cold against Marist (21-16). In two games combined, BU was limited to just five runs and nine total hits.
When BU did get runners on base, it was unable to bring them in, leaving 12 runners on base in the first game and seven in the second game, compared to the Red Foxes, who left on 10 and five in each game respectively.
One of the bright spots in the doubleheader was junior outfielder Jilee Schanda, who followed up on her strong performance Tuesday, going 1-1 with two RBI and two walks in the first game and 2-3 in the second game.
Waters praised the centerfielder for the spark she provides in the lineup but said her other hitters need to step up.
"She's a great player," Waters said. "I think for someone in the two spot, her job is to move [senior infielder] Moriah [Connolly]. If Moriah gets on base, and she's done a good job, Jilee either needs to move her or make something happen. She's been doing a good job of driving the ball or just keeping it simple. We're going to need one through nine, so if she's the spark right now, that's fine, but we just want other people to join."
While the offense struggled overall, it had an opportunity for a late-inning comeback in the first game. Freshman Kali Magane pitched a complete game with three earned runs, but defensive mistakes allowed Marist to tack on two unearned runs, putting BU in a 5-0 deficit entering the bottom of the sixth.
BU had the bases loaded with one out in the sixth. Unable to capitalize, sophomore infielder Emily Morrow and Connolly went down in order to end the threat.
The Terriers loaded the bases with one out again in the bottom of seventh. Schanda walked to score a run, and another run scored on a fielder's choice, but Morrow lined out to left field to end the game with the bases loaded and two out.
In the second game, the Terriers grabbed an early 2-1 lead. Senior Makinna Akers was strong on the mound, allowing one run through four innings. However, Marist broke through for two runs in the fifth, then sealed the game in the sixth, putting up five runs.
With Megan Beiermeister on the mound, the six-run lead was safe, as she allowed just three hits while holding BU to its only two runs in the first.
On the other side, Waters said her team's fielding and pitching has to be better.
"I thought Kali and Makinna did OK," Waters said. "It would have helped if we made a few more plays for Makinna. Our defense wasn't great today, so we gave them a lot of extra outs. [The pitchers] weren't sharp. They need to do a better job, and they know that."
Greg Levinsky contributed to the reporting of this article.