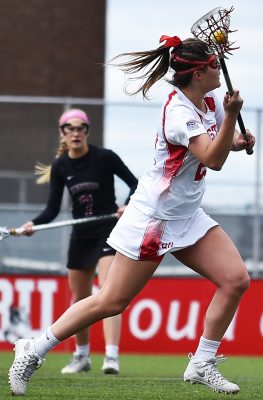 Following a tough loss at home to the United States Naval Academy, the Boston University women's lacrosse team is staring at a three-game road trip that stands in the way of its Patriot League Tournament hopes.
The Terriers (5-7, 3-3 Patriot League) are currently sixth in the Patriot League standings, hanging on to the final seed for the tournament.
The upcoming games will certainly determine whether or not the Terriers can advance to their fourth straight postseason.
BU's three remaining Patriot League opponents, the College of the Holy Cross, the United States Military Academy and American University, all sit behind BU in the standings. Each team will certainly make sure to bring their best in hopes of leapfrogging the Terriers for the final seed in the Patriot League Tournament.
Before BU can shift its attention to the postseason, it will need to recover from a close loss to Navy (10-4, 5-1 Patriot League) in which the team played well and held the lead going into the final two minutes.
BU head coach Liz Robertshaw has been pleased with how her team has performed in practice, and hopes to focus on correcting little mistakes that cost them the game on Saturday.
"I think they responded well, they've had two good days of practice," Robertshaw said. "I think it was hard [losing to Navy]. The team played well, I think they recognized that. The biggest thing we're talking about right now is just finishing a game and doing the little things better, [like] not having some of those mental lapses that cause a turnover or cause a goal."
A three-game road trip during the most important stretch of the season and as final exams loom is not necessarily ideal, but Robertshaw said that she has taken measures to make sure all of her players are in the right state of mind.
"First and foremost, we have to pay attention to us … just how we're taking care of business on a daily basis," Robertshaw said. "As we get closer to finals, I know that the stress mounts on a lot of college kids. That's something we talked about with the captains this week, about making sure everyone is doing the little things well — that they are eating right, they're sleeping, they're taking care of their academics and that they're just being smart about how to take care of themselves."
The Terriers' first test begins at Holy Cross (6-8, 1-5 Patriot League) Wednesday night in the annual Turnpike Trophy competition.
Though the Crusaders have only one conference win, they have been competitive in most of their games against the top-tier Patriot League teams.
Senior Tess MacKay is the top scorer for Holy Cross, as she leads the team with 27 goals. BU has a favorable matchup on defense as the Holy Cross offense ranks in the bottom of the conference in nearly all major categories.
However, the Crusaders are stronger on defense, and Robertshaw expressed worries that her underclassmen attackers may be thrown off by the Crusaders' swarming defense.
"[Holy Cross] is really athletic and really aggressive on both sides of the field," Robertshaw said. "On the defensive end, they play a bunch of different looks, they play man-to-man, they play zone, they play a hybrid. It's something that can really kind of get younger attackers jumbled, so we've taken some time and told our team to deliberate in how we play."
The Terriers will look for their seniors to take initiative and carry the scoring load. Junior attacker Mickenzie Larivee scored four goals on Saturday against Navy and will be influential if the Terriers are to get back in the win column.
Larivee has now scored 25 goals, which is tied for the team-lead with senior attacker Elisabeth Jayne.
Jayne, a Merrimac native who just became a full-time starter this year, was drafted on Monday evening by the Boston Storm of the United Women's Lacrosse League. Jayne joins former Terriers McKinley Curro, who was drafted to the Long Island Sound, and Danielle Etrasco, who was also drafted by the Storm, in the semi-pro league that begins its second season on May 27.
"I think it's a cool thing that we have another Boston person represented," Robertshaw said. "I just think it does speak volumes to the level of her play that the team, there's not that many teams, that the team would want to draft her and it shows that she's playing well on offense, that she's a leader, and that people in New England are taking notice."