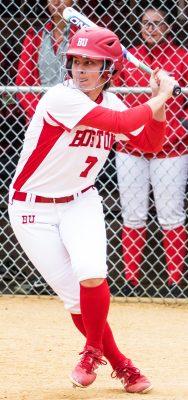 The Boston University softball team will visit Lafayette College for a three-game series in the Patriot League this weekend. BU (14-24, 6-3 Patriot League) is currently in the midst of a three-game losing streak and will look to right the ship this weekend against the Leopards (6-21, 3-9 Patriot League).
The Terriers lost their Wednesday doubleheader to Marist College, 5-3 and 8-2, respectively. BU head coach Ashley Waters says that her team has a lot of areas that need improvement if they want to get back on track.
"We need to do a better job of approaching each the game the same and not taking an inning off," Waters said. "Going into the weekend I think our pitching needs to better, our hitting needs to be better and our defense needs to be better. We just have to do our best to get ourselves to a better spot."
However, Lafayette presents a perfect opportunity for the Terriers to right the ship as the Patriot League Tournament nears. The Leopards have been struggling all year offensively, ranking dead last in average (.189), home runs (3), RBI (42) and runs (48) in the Patriot League. Waters believes Lafayette will be a challenge, regardless of their problems at the plate.
"They're a good team, they don't quit," Waters said. "We need to do a good job of winning every single inning and never being satisfied with where we are at. If you let a team like that hang around they are going to beat you. They also have a great young pitcher."
Waters will look to ride the hot hand at pitcher this weekend to stifle the Leopards' bats.
"[Senior pitcher] Makinna Akers and [freshman pitcher] Kali Magane are going to go," Waters said. "Sunday will totally be dependent on who goes to work on Saturday and who looks better."
Akers was the victim of bad luck in her last outing against Marist (22-16). She went six innings, and gave up eight runs, but only two of them were earned. Magane logged a good start, but also received a loss, tossing seven innings and surrendering five runs.
Waters is hoping that this weekend can ignite a fire under her players as the Terriers approach the final stretch of the season. The bats were quiet in its recent three games, but in their previous conference games against Army, the Terriers scored a combined 23 runs in three games last weekend. Waters truly believes this is a talented team that could make some noise, but the bats need to wake up.
"I think [junior outfielder] Emma Wong is starting to put the ball in play a little more," Waters said. "[Junior outfielder] Jilee Schanda's really stepped up in that two-spot. We just need to continue to have people on the uphill trend."
As the Terriers have seen several players emerge as offensive options besides the usual suspects, Waters hopes her team can put it all together and gain ground in the conference standings.
"We need continued production from [senior infielder] Moriah [Connolly], continued production from [senior catcher] Gabi [Martinez], and hopefully we get [sophomore infielder] Emily Morrow in the mix," Waters said. "We all around, one through nine, should have a strong offensive team and do a better job of making adjustments mid-game to have a better offense."
This weekend will be a pivotal one for the Terriers as they try to solidify a playoff spot.
After they play at Lafayette, the Terriers will only have two more Patriot League serieses against Colgate University and Bucknell University. If there is ever a time Waters needs her team to step up and play to its potential, it is now. She is expecting a breakout performance from her squad and she said she will not let her team take their foot off the gas pedal against Lafayette.
"Regardless of people's records, sometimes they are better than what they show," Waters said. "We need to approach every game like it's the best team in the country."