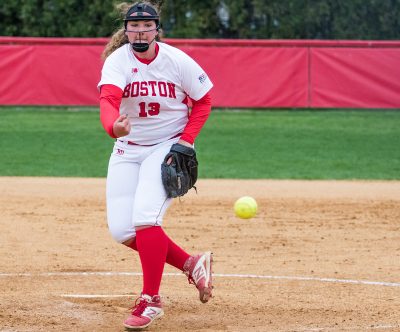 The Boston University softball team picked up a much-needed Patriot League sweep over the weekend at Lafayette College.
The Terriers (17-24, 9-3 Patriot League) did not surrender a single run across all three games and were in control for almost the entire series. The pitching performances of freshman Kali Magane and senior Makinna Akers propelled the Terriers to the sweep.
In three games and 25 combined innings pitched, the duo struck out 16 and only allowed nine hits.
BU head coach Ashley Waters said that the two pitchers were the catalysts in each win this weekend.
"Kali and Makinna both did a great job," Waters said. "They did a great job of pounding the zone. [Lafayette] is a free-swinging team, so they did a good job of hitting their spots and getting them to hit into some weak outs."
The series kicked off in dramatic fashion, as BU pulled out a 1-0 win in 11 innings. Freshman Magane pitched the entire game for the Terriers, allowing only two hits in 11 innings. Though BU outhit Lafayette (6-24, 3-12 Patriot League) 14-2, it took until the top of the 11th for them to finally bring a runner across the plate. The Terriers left 13 runners on base, but they were able to break the tie when junior infielder Kaitlin Sahlinger scored from second on a base hit by senior outfielder Rachel Levine.
Waters said pulling out the extra-inning win set the tone for the rest of the series.
"It was a great battle. Any time that you go into extra innings, there's different momentum shifts throughout the game and I think sometimes it was on their side, sometimes it was on our side," Waters said. "Our kids were swinging the bat pretty well. We were on the ball, it was just kind of dropping one in and getting a base hit and getting a runner in scoring position and having someone come up clutch. It's one of those games, it's a great game that you want to be a part of, but I just felt like we were going to come out on top.
In the second game, the Terriers trotted out a rested Akers. The Roseburg, Oregon native followed in Magane's footsteps and went the distance on the rubber. In seven innings, she struck out seven and allowed four hits.
This time around, the Terriers offense was ready to go from the start. They jumped on Leopards' starter Kristyn Marinelli, scoring three runs in the first two innings. Four Terriers had multiple hits — junior centerfielder Jilee Schanda, senior catcher Gabi Martinez, Sahlinger and junior outfielder Emma Wong — as they went on to score a comfortable 7-0 victory.
BU brought the brooms out on Sunday, but it was another close contest. Akers pitched all seven innings again, this time giving up three hits and striking out five.
However, the game was tied going into the fourth inning until Martinez, who played third base in the final game of the series, doubled down the left field line to score Schanda. While that was all the Terriers needed with Akers on the mound, they managed to tack on two runs in the sixth and three in the seventh. Martinez and sophomore catcher Alex Heinen each had two RBI on Sunday afternoon.
Waters said she was glad to see different players in her lineup have productive days and hopes to see it continue.
"I think we're continuously progressing. When you have a 1-9 lineup and you're getting hits from everywhere, that's usually a great sign," Waters said. "I want as much offensive production from every single person in our lineup, but the top of the order has been incredibly consistent, and Jilee had a great game [Sunday], but it's nice to see hits coming in from the bottom of the lineup and things happening from them."
The Terriers are now 9-3 in Patriot League play, but are still well below .500 on the season. Waters said that her team has played well in conference matchups on the weekend, but that they have had trouble carrying the winning momentum over to non-conference games during the week.
"They seem to have the conference play down, they definitely get excited for the weekends and do a great job," Waters said. "This week, we need to focus on our double-header on Thursday and get ourselves to a better position to actually win some mid-week [games]. We need to be working on things and getting better in the mid-week [games] and I feel like we almost take a step back and then back on the weekends, we start to play like ourselves again. Just some more consistent play from everybody, I think that's going to help us as we go deep into the season."