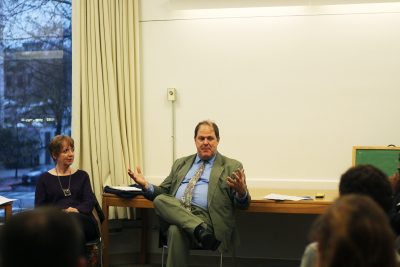 Approximately 25 Democrats gathered Tuesday night in the South End to discuss how to be more politically engaged with Republican leaders such as Massachusetts Gov. Charlie Baker and President Donald Trump.
Boston's Ward 4 Democratic Committee, one of the Democratic wards in Massachusetts, sponsored the event. The wards are responsible for supporting Democratic candidates on the ballot, Jonathan Cohn, the treasurer of the Ward 4 committee, wrote in an email before the event.
Cohn wrote similar gatherings are vital to continue the progressive ideology under Republican administrations.
"Massachusetts often views itself as a beacon to other states and the rest of the nation, as we have been at the forefront of progressive policy making for centuries," Cohn wrote.
Gus Bickford, the chair of the Massachusetts Democratic Party, discussed how the protests and rallies after Trump's election let people all over the country know they weren't alone in their fight.
"People began to see that it wasn't just them and it wasn't just them by a whole lot," Bickford said. "That energy alone began to help people view that maybe the glass can be viewed as half empty … Not necessarily optimistic, but we're going in the right direction."
Bickford said in order to strengthen the fight against the current administration, Democrats need to continue to include those who do not explicitly identify as Democrats.
"We want everybody interested in helping the Democratic Party stand up against Donald Trump," Bickford said. "They say they're there because they want to stand up to the hatred, the right-wing rhetoric, the awfulness of what this president and his people are trying to do."
Chair of Ward 4 Andrea Olmstead said after the event it is vital to make sure people vote.
Several Democrats who attended the discussion said the meeting gave them the confidence needed to be more informed and involved in politics.
Greg Dachner, 26, of South End, said before the discussion it was important to him to get politically active again after the presidential election.
"I'm new to Boston and I used to be politically involved in California, so having just moved into Boston about six months ago, I wasn't really that active," Dachner said. "Then, with the election and everything that came out of that, I decided I wanted to get involved again."
Carol Lasky, 65, of Fenway, said after the meeting having a direct conservation with political leaders like Bickford inspired her to become more politically active.
"This is exactly why I was so enthusiastic about being a member of Ward 4 — to have an opportunity to have direct contact with the people who are shaping the thinking and the leadership of the democratic party in our state," Lasky said. "I think it was a very helpful event."
Sandy Lipson, 68, of South End, said after the meeting it gave her faith in what she can do politically to contribute to the national political issue.
"This meeting shows, for me at any rate, why it does start locally and that, in fact, I can do something to help make a difference here," Lipson said. "I'm still skeptical, I have concerns, but I don't have the right to have those unless I come and start to listen and learn."