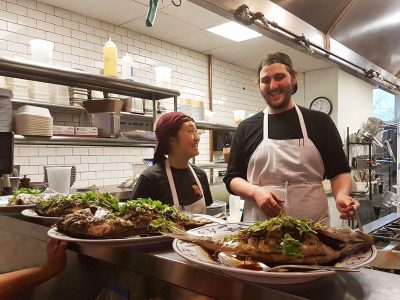 While food is something everyone consumes, often times people don't put much thought into where it came from. The ALLocal Dinner, organized by the Sustainable Business Network of Massachusetts, was held at Mei Mei Restaurant Sunday night. It featured dishes made from locally sourced ingredients to emphasize the importance of where and how food is grown.
Mei Mei was certified by the Sustainable Business Leader Program to be a member of the SBN. Based in Cambridge, SBN is a nonprofit organization with the mission to promote a local, green economy in the Massachusetts region.
"It's a green sustainable certificate program, where the business goes through this process of getting a green certificate to make sure that it's following certain green practices," said Maddie Phadke, managing director of SBN. "In terms of areas like waste management, there's a lot of information that these businesses could use so our consultants help them go through this seven-step program that helps them become more environment friendly."
Phadke said the dinner was hosted to raise awareness of the importance of buying food locally.
"The ALLocal dinner is a part of the local food program," Phadke said. "We started this event to highlight what local is all about, to highlight that it is possible to source local ingredients, to give a chance to the local producers and the local vendors so that the restaurants could source from them. It's all about making connections."
Phadke said the main reason the SBN had chosen Mei Mei as a venue for this event was because Irene Li, one of the three owners of the restaurant, and the restaurant itself had an ideology that was very similar to that of the SBN.
"She is one of our advising council members as well," Phadke said. "She is so in tune with what our values are, and we're really grateful that she agreed to partner with us."
Li said these values stem from when she first found her passion for food.
"When I was in college, I really found my love for food because I realized how much you could learn about the story of an ingredient or a dish, and how that makes eating it a lot more fun," Li said. "So basically, your food becomes more fun the more you learn about it and the more in-depth you get, and we try to offer that experience to our guests."
Li said she enjoyed hosting the event because she liked finding people who cared about the same values.
"I thought this event was great because we serve a lot of people who maybe aren't so interested in the workings of what we do," Li said, "so when we have a specific focus group of people who are here to specifically talk about sustainability, it's a real change."
The evening progressed with eight courses of food made from entirely locally sourced ingredients. As the guests ate their desserts, Li addressed the crowd, along with Jared Auerbach, the founder of Red's Best, a Boston-based seafood wholesaler that aims to support the lives of the local fishermen while sustaining the local fisheries for harvest.
Auerbach said the main reason behind the depletion of the fisheries is that people want very specific types of seafood and fish, and aren't willing to open their minds to new varieties.
"There's one simple thing that you can do to support local fishing and local fish, and that's just to be flexible with what you consume," Auerbach said. "Allow me to tell you what you're going to eat, and don't tell Mother Nature what it's going to give you."
Emily Buck, 31, of Somerville, seemed to agree as she talked about how happy she was to have been able to eat the variety of food that had been presented to her. She mentioned there were several things that she normally wouldn't order but really liked, and how this had helped broaden her food palette.
"I thought that being able to try all the different ingredients, especially things that I wouldn't necessarily think to order, was very interesting," Buck said. "I think if I see something on the menu that has mainly vegetarian components, I probably won't order [it], but today those were some of my favorite dishes."