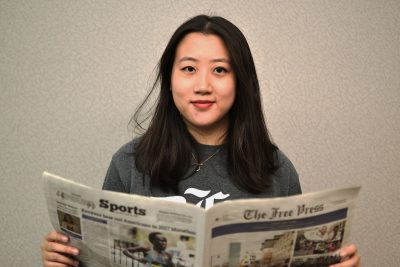 I still vividly remember the first time I came to the newsroom at 648 Beacon St. Once you enter the building, the path to FreeP is a maze, with signs that lead you through different doors and hallways.
Many Daily Free Press staff and alumni knew they wanted to be part of Boston University's independent student newspaper when they were touring college campuses, so the first thing they did as a freshman was join FreeP. I was not one of them.
It took me longer — two years, to be precise — to finally have the courage to send in my application. I was born and raised in China, and English is my second language, so I always had the constant fear as a reporter: What if people don't understand what I am saying? What if I don't understand the smart wordplays people make? What if I just don't know how to write?
I started as a news staff writer when I was a junior, then a campus associate, then a campus editor. Through every step of the process, my peers at The Daily Free Press encouraged me to become a better reporter and editor. They mentored me from a nervous and quiet Chinese girl to this semester's editor-in-chief.
And we had a good run.
It has always been my firm belief that an independent student newspaper's core value is to serve the university's community and break the untold stories that no other publications bother to look for.
This semester, after a historic presidential election, we did just that. On campus, we wrote stories about the impact of the university's continuous tuition increase, the ongoing labor dispute between BU and the university's police officers and the movement to push BU to divest from fossil fuel industry.
In the city, we covered marches and activist movements in light of the recent election. The city news desk also built upon the city council beat, where we report on city politics and city initiatives.
The sports desk and the Boston Hockey Blog continued to cover the university's sports teams in detail, while the features desk documented the science, business and culture scene on and beyond Commonwealth Avenue.
In the opinion section, I had some of the best conversations with the Editorial Board on issues that are relevant to BU students. We edited on sanctuary campuses, freedom of speech at a private university, pop culture and trigger warnings, just to name a few.
And there is the Daily Free Now, where our bloggers continued to write articles that make my day. Throughout the semester, we continued to expand our social media presence and multimedia component. The photo desk, with a video team, produced some of the most breathtaking pieces.
But here comes a confession: God knows how many adjectives I have taken out of this semester's articles, but I am going to use an unbearable amount just for the smart, funny, dedicated, talented, kind, humble and extraordinary Spring 2017 Editorial Board, who never cease to amaze me.
To Sophia, Alyssa, Anna, Jordan, Olivia, Elise, Kalina and Gabby — there is no other group of people with whom I would rather spend 40 hours per week. Each one of you embodies the best of a student journalist. Stay true to your heart and your work. I'm more than confident to leave FreeP to your hands.
To Managing Editor Candice Lim, who stood by me through every success and every mistake — you bring joy and fun spirit to the newsroom all the time, plus you keep everyone woke. I can't begin to imagine how this semester would have been without you. It's been a good run.
And of course, this newspaper relies on all associate editors, assistant editors, writers, columnists, photographers, videographers and designers who put in their hard work on a daily basis. I'm constantly impressed by our dedicated staff.
All that being said, for the past two years, I had the highest pleasure of having the opportunity to work with and learn from some of the student journalists at Boston University. And I would do it all over again in a heartbeat.
Weihua Li
Spring 2017 Editor-in-Chief