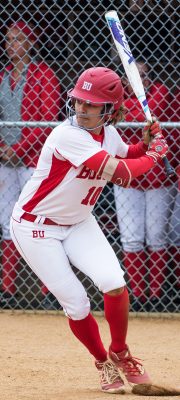 Following a weekend sweep over Lafayette College, the Boston University softball team returns to action with a non-conference matchup against Central Connecticut State University, and are looking to build on their three-game winning streak.
Going into Thursday's doubleheader, pitchers freshman Kali Magane and senior Makinna Akers have tossed 25 straight scoreless innings.
The Blue Devils (10-23) compete in the Northeast Conference and are losers of three straight, however, the Blue Devils did defeat Bryant, the team that beat the Terriers in Boston's home opener.
For BU (17-24, 9-3 Patriot League), Magane and Akers dominated Lafayette this past weekend. In Game 1 of the series, Magane went the distance in extra-inning fashion. The freshman shut down the Leopards for 11 innings for her ninth win of the season. Akers pitched both the rubber match and series finale, throwing 14 scoreless innings and amassing 12 strikeouts.
"I think this weekend everything was on and I was proud how they bounced back," said BU coach Ashley Waters. "Our pitching was great and it set a great tone. We were good defensively behind both Kali and Makinna. Offensively, we just kept grinding. We hit the ball really well. We just kept at it which tended to be in our favor."
The weekends have been successful for the Terriers, but they lost three weekday games last week.
"We did some small group stuff on Thursday to get ourselves into a better spot," Waters said. "Taking the focus away from what had happened and moving on. For us, it is really tough because we are doing a great job on the weekend but we are just not playing well during the week. I think we just got ourselves into a better spot."
Seniors Gabi Martinez and Moriah Connolly are neck-and-neck for the Terrier batting crown. Martinez comes in with a .339 average, four home runs and 26 RBI. Connolly's Patriot League-leading 47 hits gives her a .338 average. Connolly also leads the Patriot League in stolen bases and runs scored.
Sophomore infielder Emily Morrow has struck out just twice this season. The sure-gloved sophomore has improved greatly throughout the campaign.
Sophomore Alex Heinen leads the Terriers with 18 extra base hits and 32 RBI as well as a Patriot League-high seven home runs and 11 doubles. Junior centerfielder Jilee Schanda has batted .600 (12-20) over her last six games.
The Blue Devils are paced by junior catcher Brittany McNulla. The starter is batting .308 with two home runs and 23 RBI. New Bedford, Massachusetts junior Alex Debrosse provides the power, with a team-leading 12 extra base hits and is second to McNulla with 20 RBI.
Emily Sargent (5-17) 3.93 ERA does the majority of the pitching for the Blue Devils. The junior has thrown 142.2 innings and has gone the distance in all but one of her 18 starts this season. The pitching staff has lowered its ERA by almost two full runs in April, from 5.20 to 3.30.
The Terriers have jumped up to second place in the Patriot League, leapfrogging Army and Bucknell this past weekend thanks to nine consecutive conference wins. Despite it being a non-conference game, Waters sees Thursday's twinbill as important.
"It gets people to better spots," Waters said. "If they have a tough weekend offensively it gives them a chance to work on things and maybe to try something new in a game that doesn't necessarily go towards the overall conference record. It is great to get in a better spot in our defense, our hitting. I want them to have as many games as possible so going in the end of the season they feel like the best possible team."
CORRECTION: In the original version of this story, the headline read that softball hosts CCSU, when instead, softball is traveling to CCSU. This article has since been updated to reflect this change.