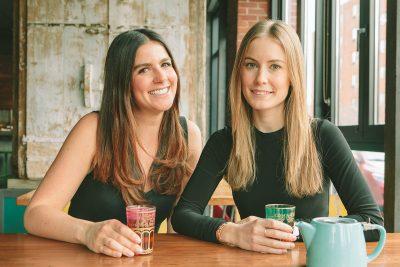 Boston University alumni Molly Ford and Sarah Jesup launched their website, The Food Lens, earlier this spring. According to the site, their purpose is to guide "hungry travelers and locals alike" to restaurants in Boston.
Ford and Jesup met their freshman year in the College of General Studies in 2008. From there, Ford went on to study broadcast journalism in BU's College of Communication and Jesup majored in hospitality in the School of Hospitality Administration. Years later, the pair met back up in Boston and began their venture into food media.
"The site basically started over our mutual love for food and travel," Jesup said. "We spent the greater part of the past decade eating and drinking our way around the world."
During the duo's many trips together, they found that many crowd-sourced sites did not provide reliable restaurant recommendations. The advice from locals, they found, was far more useful in creating the best dining experiences.
Ford and Jesup's unique experience with food and travel is what prepared them for an entrepreneurial career in the food media industry.
"Having worked in restaurants in the past, dined at many restaurants and learn[ed] about it at BU just kind of opened my eyes to things early on," Jesup said. "Actually traveling and eating made it come full circle."
Ford explained that The Food Lens was the perfect way to combine their educational backgrounds and passion for food.
"It was the perfect marriage for Sarah and I in our ideas because she had the hospitality background and I had the content background," Ford said.
They were careful to take their time in choosing a team of writers who were equally as passionate about the food scene, Ford said.
"It took us six months to a year to lock down the small team that we have right now that we absolutely love," Ford said. "That's when we finally were able to really get going with all this different content we have on the website."
The content on the site is split into four main sections — The Spots, Food Lens Five, The Sides, and The Events.
In The Spots, each restaurant listed has a detailed description, multiple photographs, insider tips, fun facts and a list of must-haves. The Food Lens Five is organized by neighborhood and food type, where readers can find a list on everything from lobster rolls to donuts. The Sides is more of a behind the scenes look into the food scene complete with chef Q&As, brewery features and more. The Events is the most straightforward section with a calendar of culinary events in and around Boston.
Jesup explained that the current version of The Food Lens was just the first edition of the site. They wanted to see what interested readers before moving into phase two, where they will add more features and services. Down the line, she said they hope to implement a concierge service to help people plan trips around their meals, she said.
Ford, Jesup and their team of writers visit a spot multiple times and attempt to try everything on the menu before deciding to include it on their site, they said.
"That's why it has been so time consuming to gather all this content," Ford said. "We really want to make sure and be very confident about the places we put on the website."
The Boston Globe recently deemed The Food Lens a "Yelp alternative." However, Jesup explained that their site is actually very different from Yelp.
"Our site is in no way crowdsourced," Jesup said. "All of our content is curated, it's authentic, and it's really written and developed by local people who truly know the ins and outs of the Boston food and drink scene."
Claire Rosenkilde, a sophomore in COM and writer for Spoon University, noted the reliability of sites like The Food Lens versus Yelp.
"The Food Lens looks like a really reliable food website with a ton of Boston content," Rosenkilde said. "They seem a lot more trustworthy than Yelp, since Yelp reviews aren't very detailed."
Though the focus of the site right now is strictly Boston, Ford and Jesup said that they hope to expand to different cities in the United States as the website grows.
Jesup explained that taking the entrepreneurial path can be scary at times, it but pays off in the end.
"At times, it can be really difficult, and you can feel very overwhelmed," Jesup said. "But that's totally just part of the process. It is different, and it can be scary, but it's so fun and so rewarding. At the end of the day, you're getting to do what you want to do."
CORRECTION: In an earlier version of this article, the headline and caption read "blog" instead of "site." It also said the website's purpose is to guide travelers "into the cities that are worth visiting," when they are just catering to Boston travelers for now. This article has since been updated to reflect these changes.