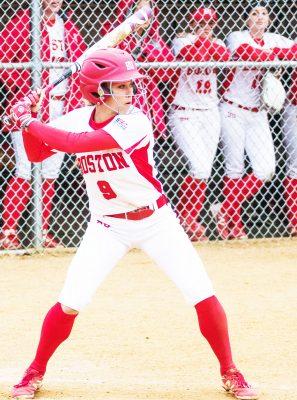 The Boston University softball team split a doubleheader Thursday afternoon against the Central Connecticut State University Blue Devils. The Terriers (18-25, 9-3 Patriot League) dropped the first contest by a score of 3-1, but came back and made adjustments to take the second game 5-1.
This contest was originally supposed to take place in Boston but was changed due to weather conditions.
"I thought the first game we just didn't play well," said BU head coach Ashley Waters. "We just didn't have the best execution."
The first game was a disappointment to Waters, she said. Nothing seemed to be clicking for BU, and Waters cited no sense of urgency from the players as a reason for the loss. The Blue Devils (11-24) compiled less hits than the Terriers, but took advantage of their opportunities with runners on base.
Despite the loss, senior pitcher Makinna Akers still had a strong start. She pitched all six innings while allowing three earned runs and just six hits. It was a step back from her two shutouts of the weekend against Lafayette College, but nonetheless, a good game despite the loss.
The Terriers simply needed to do the little things in Waters' eyes to come away with a victory in game two, she said. BU took advantage when their hitters reached base.
"Game two we started to move people over and we started to execute," Waters said.
The Terriers' pitching has been clicking on all cylinders recently as they have only let up four runs in their last five games. Freshman pitcher Kali Magane has been sensational her last two games letting up just one mere run in 18 innings.
"Our pitching has done a really good job," Waters said. "Kali had a really good game. We need them to get weak outs and we need our defense to make plays. I felt in the second game that was just a little bit better."
Current Patriot League Player of the Week junior outfielder Jilee Schanda continued her hot streak as she collected three runs batted in the two games against Central Connecticut State. This past weekend she batted an even .500 as she went 6-12 in the Terriers sweep over Patriot League opponent Lafayette.
During her award-winning week she batted .600 while helping the Terriers extend their nine-game winning streak among Patriot League foes. This was her first weekly award since she was named Rookie of the Week in 2015.
Senior Moriah Connolly also shined in the first game as she reached four times from the leadoff spot, totaling one hit and three walks.
Waters said she was pleased with her team's effort in the second game. There seemed to be a different approach following the loss in the first game. Waters said she felt that she has a team who can compete with anyone in Division I softball, as she has expressed throughout the whole season.
"I think it's just a matter of seeing good pitches," she said. "One through nine we have a really good offensive lineup. I feel like in the second game we did a much better job in seeing good pitches."
Waters is quite confident in her players as the season nears a close. The Terriers sit at second place in the Patriot League standings and will look to end on a good note.
"In terms of our conference play we are doing a great job," Waters said. "We've had some blowout and some close games. I am excited … and feeling like they are playing some good softball going into the end."