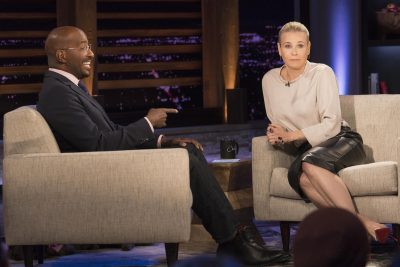 Chelsea Handler took time from her "national holiday" to talk politics, feminism and the new season of her show, "Chelsea," on April 20.
"I haven't started celebrating [4/20] yet because it's still — it's four [in the afternoon] — so I have 20 minutes. Hurry up," she said to begin the virtual press conference with The Daily Free Press and other student publications from around the country.
The second season of Handler's comedy television series "Chelsea" premiered on Netflix on April 14 with a new hour-long format. Handler, who previously hosted the popular late night talk show "Chelsea Lately," explained how her new show showed an evolution of her interests and priorities. Netflix has provided a progressive platform to meet her needs.
"I need to be able to be free to curse, and to talk about drugs, and to not pretend that I don't do drugs and that I don't drink heavily," she said. "The things I care about, I wasn't able to talk about on my old show."
Now, Handler's program reflects her willingness to "revisit all the things that I know nothing about, which is pretty much everything."
While this exploration leads to fun segments on football or her dogs, it also offers the opportunity to freely delve into heavier issues. Handler unapologetically uses each episode to add commentary and levity to topics such as politics and sexism.
"It's good to lend humor to all these different topics because it makes it digestible for all different types of people," she explained.
Her ultimate goal serves to provide the audience with the opportunity to "unwind and walk away knowing more," she said.
With politics, Handler is not quiet on her views of the current presidential administration.
"['Chelsea' is] a talk show where I kind of take a piss out of everything that's going on in this administration and make fun of everybody in this administration who deserves to be made fun of," she said. She later said, "A lot of people say to me, you're being so political, you're being so loud. Yeah, it's not easy but I want to defend those [whose rights are at risk]."
As an equal right supporter, Chelsea has chosen to become a voice for the oppressed.
"I want people to know that they can trust me and they can count on me for that stuff," she said.
While Handler explained that she would "never trust" President Donald Trump and even declined the thought of speaking with him, she still advocated for the importance of an educated electorate and the understanding of different opinions.
Rather than completely shaming the Republican Party and its constituents — an action Handler opposes — she would rather build bridges.
"I'm going to behave myself because I'm trying to cross party aisles," she shared. Handler also pushed for her audience to take action as well.
"You have to be aware and use your right to vote," she said. As an advocate for taking action, her website has a direct link to specific voting information in addition to links to support Planned Parenthood and Syrian refugees.
Besides voting rights, Handler continues to push for gender equality as well.
"Feminist isn't a dirty word," she explained. "[Women] should be treated equally."
In addition, with the recent Bill O'Reilly firing following allegations of workplace sexual harassment, Handler gave advice to those facing misogyny.
"You do not tolerate it at all. Don't ever be quiet about it. Scream and yell until people hear you," she said.
Featuring important figures such as Gloria Steinem, Handler uses her show to perpetuate causes fought for in the past.
"People fought for generations and generations … we have constantly keep fighting," she explained.
Ultimately, Handler still maintains a positive outlook for the future.
"We have to be hopeful and we have to have fun with it — and hope that it ends sooner than later," she said.