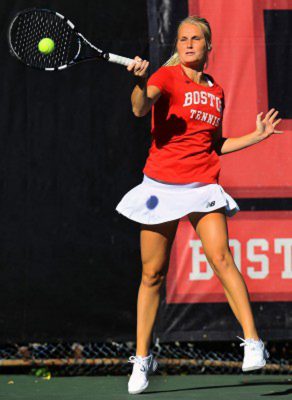 The No. 2 seed Boston University women's tennis team continued its dominance over the rest of the Patriot League on Sunday afternoon, winning its fourth straight conference title after defeating the No. 1 seed United States Military Academy 4-1.
Senior Barbara Rodriguez ended her career on a high note, as she guided BU to victory by winning all three of her singles matches this weekend at the conference tournament. As a result of her performance, she was named the John "Pat" Rooney Patriot League Tournament MVP.
While Rodriguez stood out, other Terriers had noticeable performances as well. BU fell behind 1-0 after losing the doubles matches, but came back after winning four singles matches. Rodriguez and sophomores Sabrina Faybyshev, Remi Ramos and Sophia Kryloff all won their respective matches.
The victory marked the Terriers' 26th conference title and 17th automatic NCAA Tournament berth in their history.
Army had won nine straight Patriot League titles, but BU broke that streak when it came over from the America East conference in 2013 and has won each championship since then.
The two teams previously faced off on April 15, with Army winning 4-2, which secured the, the No. 1 seed.
Men's and women's track break records at Penn Relays
The Boston University men's and women's track teams both had incredible weekends at the Penn Relays, which concluded on Saturday in Philadelphia, as both teams combined to break four school records.
Both BU teams broke school records twice in the 4×200 meter relay. Each team set new marks in the heat races on Friday and then set even better times in the championships on Saturday.
The men's team, which featured senior Justin Flynn, freshman Chiebuka Onwuzurike, senior Cameron Williams and junior Cameron Nurse, finished Saturday's final with a time of 1:23.63 for fourth place. The same team competed in the 4×100 meter relay and finished sixth in the finals at 40:06 to set a new best time in the Patriot League this season.
On the women's side, the quartet of freshman Leah Fowlkes, senior Toria Levy, senior Djenne Parris and junior Ayodele Adesanya set a new BU best at 1:35.95, which was good for fifth place in the 4×200 meter relay.
The women's side had more notable events, as the 4×400 meter relay team ended the meet on a high note, setting a new record with a time of 3:34.30, which broke the previous record of 3:36.73 that the same team set on April 1.
The shuttle relay team also set a new school record of 55.72 while finishing in third place in the finals.