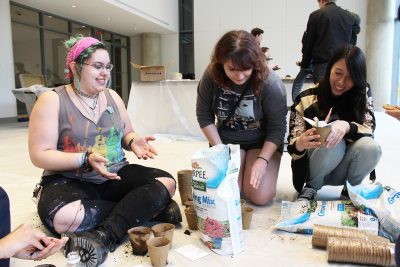 Boston does try to promote a green city, evident through its countless green spaces, public transportation efforts and energy-saving initiatives. But, according to Green Arts Network, it's not enough.
Bee Green, an environmentally friendly workshop hosted by Green Arts Network and the Massachusetts College of Art and Design on Sunday, advocated for "sustainability on the ground level" and offered lessons in biodegradable painting, seed paper crafts, seed planting and bicycle maintenance. Held at MassArt, the workshop invited students and community members to learn about at-home practices that could be both green and creative.
Stephanie Houten, the founder of Green Arts Network, said she started the organization a few years ago, first as a Facebook page, to combine activism, arts and sustainability. She has been trying to recruit as many volunteers as possible to enact change in Boston, but the priority just isn't there, she said, referring to the city's "suffering" education system and the MBTA's transportation issues, among other things.
"If we didn't have all these other things to worry about, we could probably be putting more energy towards this," said Houten, a junior at MassArt. "But I think that's all the more reason for people to just take initiative in their own neighborhoods."
Green Arts Network is a group intent on gathering various eco-friendly artists in the community to share ideas on sustainability. It generally holds one big celebration in the fall to bring together art and environmental groups in the community, so this is the first time it has branched out to collaborate on the springtime Bee Green workshop.
Sammi Hansen, one of the organizers of Bee Green, said she thought biodegradable crafts have become more popular in the last few years, referring to paints, crayons, journals, paper and more.
"People have definitely become more aware of the issues with the environment lately," she added. Hansen, a MassArt senior, later said, "Activism is a big part of it, but there are lots of little things, like turning off the lights."
Although Bee Green wasn't necessarily created with a heavily political mentality, several individuals who attended said it was hard not to think of recent actions in the White House, referring to President Donald Trump's budget cuts to the Environmental Protection Agency and his campaign trail promise to eliminate the EPA completely.
"Under the current administration, the environment is so threatened," said Maegan Shanaghan, a freshman at Simmons College and a member of the Simmons College Sustainability Club.
She said the club does its best to interact with the surrounding community, and recently spent the day picking up trash by the Charles River as part of its Muddy River Cleanup program.
Riley O'Brien, a senior at MassArt, said he thinks activities like these create discussion about waste, gesturing to the seed card he was decorating with biodegradable paint for Mother's Day. But he agreed that the Trump administration has had an effect on his personal actions toward recycling, and he has tried to be more environmentally conscious.
"I want to make sure I still have the Earth," O'Brien said.
But being sustainable isn't always so easy, especially when discussing wealth and inequality gaps in big cities.
"It's hard because Boston is one of the worst places of inequality, as far as like there's super rich people and super poor people," Houten said. "And it's tough because being sustainable is a lot easier when you have money, because you can shop at Whole Foods or you can afford to pay more for things that are greener. But for people who don't have money, it's harder because a lot of times you're thinking about things that are more economical."
This relationship between poverty and sustainability has to be addressed now, Houten said.
Despite this, Hank Fay, a junior at MassArt and one of the oldest students in the undergraduate program at 56 years old, said there are many different ways to contribute to environmental healing.
"Whether you're an artist or an architect or a doctor or a lawyer, there's probably things going in in your industry that have directly to do with the environment and sustainability," Fay said, "and those are things that we should be talking about at these events."
With this mentality, Green Arts Initiative has done its best to branch out into other industries, such as tech.
Houten said she is currently working on an application through virtual reality and augmented reality to gain points for recycling. It's an app on your phone, she said, so users can scan a bottle, go up to recycle bin and scan the bin, and when the app sees the user throwing the bottle in the bin, the user get points.
"The [United Nations] wants to see it," Houten said, hopeful that they'll be able to launch the app in the fall.
Until then, the Green Arts Initiative will continue to reach out to other colleges and universities in Boston and try to recruit more volunteers. Because environmentalism has so many sectors, including saving electricity, composting and recycling, cutting back on water, growing community gardens and using public transportation, it can be a little intimidating for some people, Hansen said. But, she continued, these are all actions that need to be taken.
"Ultimately we're going to need to know these things in the future," Houten said. "Or, not even in the future — it's now."