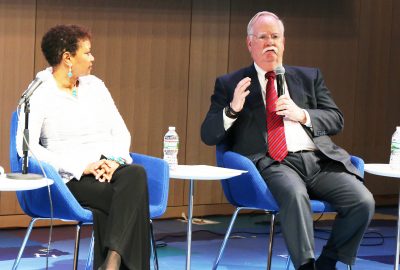 In the final installment of Imagine Boston 2030's Forums on the Future, higher education leaders from the Boston area — including Boston University's President Robert Brown — discussed their institution's roles for the future of Boston on Tuesday evening at the Boston Public Library.
Natalia Urtubey, the director of engagement for Imagine Boston 2030, said prior to Tuesday's discussion that the various forums were designed to facilitate conversations between experts and community members about how the different sectors of the city will be affected by Imagine Boston 2030 programs.
Urtubey said universities have a significant impact on the city's future, and that part of Imagine Boston 2030's focus is to attract more students to stay in the city after graduating.
"Universities in Boston play a huge role in our population growth," Urtubey said. "We have tons and tons of students who come through every year from all over the world to study at some of the world's most prestigious universities and colleges."
The talk, which had about 100 people in attendance, was moderated by Alex Krieger, a professor and advisor at the Harvard University Graduate School of Design.
During the discussion, Krieger addressed the fact that the universities represented at the discussion made up only a small proportion of colleges in the Greater Boston area.
"You represent five of 35 colleges and universities in the city of Boston," Krieger said. "[There are] 80 within a 25-mile circle of where we sit right now. You are responsible for educating 52,000 students, which is about a third of the number of college and university students in the Boston area. There are upwards of 300,000 [students] within that 25-mile radius of where we sit."
Brown discussed what BU's role is in the future of the city during the forum. Brown said investing in the city's growth will encourage more students to attend local colleges.
"As a major private research university with a major footprint in the heart of Boston, we want Boston to thrive," Brown said. "We believe Boston has gone a long way down the path of transforming its economy into a 21st century economy."
Brown said the well-being of local universities is directly correlated with that of the city, and therefore hopes Imagine Boston 2030 will include plans to improve Boston in several different areas.
"We count on the city for great education, great transportation, great urban planning, all of the things a city has to do to become that center for these activities," Brown said.
Brown said more buildings like the Student Village residences on BU's West Campus are likely to be built in the future.
"When we think about our campus … we think about it evolving over time to stretch in distance with real opportunities in growth for us being west of the BU Bridge," Brown said.
Zorica Pantić, the president of Wentworth Institute of Technology, said during the forum that she would like to see a stronger relationship between Boston public high schools and local colleges to prepare students for the college experience.
"What we would like to do is really establish a better collaboration with different high schools and even middle schools and really educate students about STEM careers," Pantić said.
Valerie Roberson, the president of Roxbury Community College, said both Roxbury Community College and the city are extremely focused on the local population.
"We have a unique situation where well over 90 percent of our students are community members," Roberson said. "They're going to remain community members and so when you start to talk about the economic development and opportunities for Boston public school students to be able to continue their education, it's often community colleges that allow students … to get access to higher educations."
Several Boston residents said they agreed with Imagine Boston 2030's initiative to include universities and colleges in the planning process for Boston's future.
Nasreen Latif, 60, of Fenway, a professor of economics at Roxbury Community College, said she wants to be able to teach her students what they will need to know once they graduate.
"I am a Bostonian, I was raised in Boston," Latif said. "My students, we are all in Boston. We have to know what the future looks like for us."
Cornelius Prioleau, 56, of Mattapan, said he understands the importance of education to help progress a community, and he works with his local organizations to help the two come together for the benefit of the community.
"[We are] finding a way to connect the university with what it has to offer to the community," Prioleau said. "Education is important to the residents because education is the only way you're going to be able to progress. Without education, you don't go far."
Michelle Brogan, 60, of the North End, said she came because she thinks it's a great idea to tie in such a large population contributor like universities into the conversation about the city's future.
"Clearly this is a college-dominated city," Brogan said. "The students are going to be the people who are living there so they really should have a big say in what's going on."