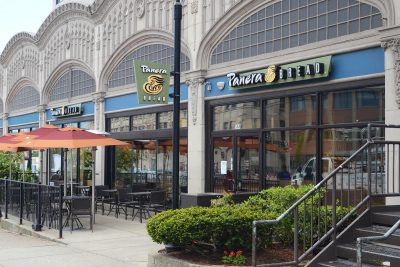 The Panera Bread at 888 Commonwealth Ave. will permanently close its doors on May 21 due to tightening finances, according to Chrissy Fearing, an assistant manager at the location.
Fearing said the decision to close this Panera, located on Boston University's West Campus, was a financial one.
"Basically, the rent is too high, and we're not making enough money to cover everything," Fearing said. "I think [worsening finances] just got to this point."
She said the restaurant has been frequented by BU students and staff alike, although the university is not directly affiliated with Panera.
"It's been a good relationship [with the BU community]," Fearing said. "It's going to be sad for everybody."
BU spokesperson Colin Riley said he is disappointed to see Panera leave campus.
"I've gone into [Panera], and I'm sad to see it's closing," Riley said. "I like the broccoli soup. I stop in there occasionally, and I usually see people who work across the street in one of the schools [in West Campus] or in the administrative offices."
Several students said they were surprised to see the restaurant go as well.
Unyanud Wongwijitkul, a junior in the Questrom School of Business, said she thinks students will miss Panera once it is gone.
"I usually don't eat there, but when I do, I really like it," Wongwijitkul said. "It makes me sad. I personally don't like Chipotle, so when I go over to West, I always have Panera … I'll miss it a lot."
Sidhartha Premkumar, a freshman in the College of Arts and Sciences, said he planned to eat at the West Campus Panera next year and will miss its affordability.
"I'm actually kind of sad because I'm moving to Allston next year, so it's in that area," Premkumar said. "It would be the closest one … You can get a meal for under $10, it's decently healthy, it's good food, so I would assume that a lot of kids would be sad."
Yago Zoccarato, a freshman in CAS, said although he has never been to Panera himself, he knows people who go frequently. He said they will probably just switch to eating at other restaurants nearby.
"I don't think it'll affect [students] that much just because there are plenty of restaurants along [Commonwealth] Ave. that they can go to," Zoccarato said. "If they want something like Panera, there's [something] in the GSU that's similar, so I don't think it will affect them that much. Some people might get upset that Panera is going out of business, but I think [the sadness] will die off after a while, and it will be fine."
Andy Picon and Alana Levene contributed to the reporting of this article.