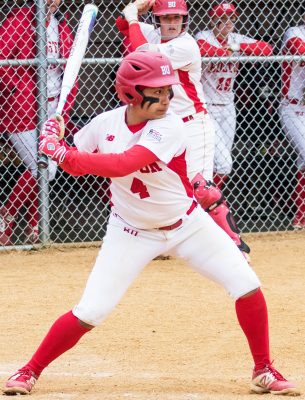 With two wins to open the weekend, the Boston University softball team advanced to the championship round of this year's Patriot League Tournament. The Terriers (25-25, 14-3 Patriot League) downed foes United States Military Academy on Thursday afternoon, and Lehigh University on Friday morning, to extend their winning streak to eight games.
During Thursday's game against Army, freshman Kali Magane pitched a one run, six hit performance in the first game as the Terriers, a No. 2 seed in the tournament, ended up beating No. 3 seed Army (36-21, 10-8 Patriot League).
Senior Gabi Martinez went three for three while driving in four, and scored one off of Army pitchers sophomore Renee Poirier and senior Kristen West. All three of Martinez's RBI singles came when there were two outs.
"[Martinez's] offense was great," said BU head coach Ashley Waters. "She had a lot of confidence going in against Army and she did great in the regular season against them too … She had a good confident feeling at the plate and was able to execute."
"I told myself, just get up there and swing and have fun," Martinez said in a videoed interview posted on the Boston University Athletics website. She said she struggled in batting practice, but found her groove after some internal dialogue. "I feel like I left it all on the field and that's what matters. You can't control every aspect of the game. You have to accept it, whatever it is."
Along with Martinez, senior Moriah Connolly also collected a trifecta of hits accompanied by three runs scored against Army. She also stole a base in both games, which made her tied for the most stolen bases in a season for the Patriot League with 40.
In the Patriot League semifinal on Friday morning against Lehigh (34-18, 16-2 Patriot League), the Terriers found themselves in a familiar position.
BU dropped its first three Patriot League contests to Lehigh by a combined score of 30-10. Playing in Bethlehem, Pennsylvania for their fourth matchup with the Mountain Hawks of 2017, the Terriers buckled down, struck early and fell behind. The Terriers recovered with 11 combined runs in the fifth and sixth innings to take a 14-7 victory.
"We just have a lot of resilience," Waters said. "We are where we want to be. We wanted to make the playoffs and get to a championship. Right now, it is going to be very difficult to stop us because their mind is on one thing."
Three first inning runs put the Terriers ahead early, but Lehigh took the lead by scoring two runs in both the third and fourth innings. BU responded by plating four in the top of the fifth inning, pushing ahead to a 7-4 lead.
Senior Makinna Akers tossed four and one third innings, surrendering eight hits and three runs, with two being earned. Magane followed with two and two thirds innings while giving up two unearned runs in the process, but raising her win total to 13.
Junior Emma Wong and sophomore Emily Morrow tallied five and three RBI respectively, as the six and eight hitters, they provided the offense.
Wong pushed across the game's first runs with a bases clearing triple in the top of the first inning and drove in two more in the sixth. With the score knotted up at four, Morrow cleared the bases with a double in the fifth.
"For them it's just a matter of seeing their pitches and driving the ball," Waters said. "There's an expectation that anybody in our lineup should be able to hit the ball and drive in runs. We left a lot of runners on base [earlier] this year so it's great to see the end of the order executing and they saw some great pitches and did what they were supposed to do with them."
In the top of the sixth, Patriot League Player of the Year junior center fielder Jilee Schanda singled to centerfield, and bringing in two, and extending the the lead to 14-4.
In the bottom of the sixth, Lehigh loaded the bases with no outs and scored three runs off the opportunity.
The Terriers secured their spot in the championship round after their victory against Lehigh. Originally scheduled for Saturday, but postponed due to inclement weather, the Terriers will look to repeat as Patriot League Champions on Sunday morning.
"The girls are excited, they're just ready to play," Waters said on Saturday afternoon. "They're fired up. We came here to do a job and it feels good when your hard work from January on is paying off. Every season has ups and downs and has obstacles, but they took challenges straight on and are doing a great job finishing."
A previous version of this article had a few minor grammatical errors, but the current version reflects those changes.