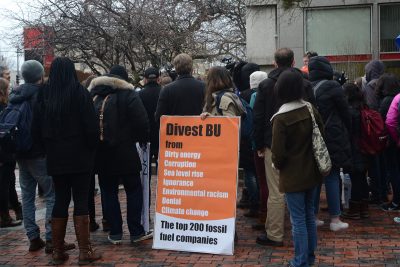 Divest BU is asking Boston University alumni to withhold their donations from BU until the school completely divests from the fossil fuel industry, according to the social media campaign the group launched Thursday.
The group hopes the new plan will halt the flow of funds to the university and force the Board of Trustees to fully divest from oil and gas companies, Divest BU's head of campus engagement Ivan Badanjak said.
"Each year, a substantial amount of BU's operating budget is derived from alumni donations," the College of Arts and Sciences junior wrote in an email. "We are hoping such an initiative would be symbolic enough to the school administration to signal that we want change."
Divest BU took to Facebook and Twitter to spread the message, posting links to a petition for alumni to pledge to withhold donations until the university publicly commits to divesting. Group members are also emailing alumni directly, asking them to sign the petition and spread the word to fellow alumni, Badanjak wrote.
The group hopes to accumulate at least 2,000 signatures by August 3 to validate their efforts, he wrote.
"We will collect as many signatures as we can, but [2,000] is a large enough number to afford legitimacy to our petition," Badanjak wrote. "We identified August as a crucial deadline so we have enough time to organize our next moves and send the petition over to the school administration before a presumed Board of Trustees meeting."
This past school year, Divest BU has held rallies and lobbied the administration to push for divestment. Asking alumni to withhold donations is a last resort to gain a monetary bargaining chip over the administration, Badanjak said.
"None of this pressure [from last year] worked probably because there is a lack of accountability, and [the administration is] able to be indifferent to our cause without impunity," he wrote. "They have left us with no choice … We hope that withholding alumni donations will provide us with some leverage to stimulate a better response from the school administration."
Nathan Phillips, a professor in the CAS Department of Earth and Environment and an active member of Divest BU, said that the Board of Trustees has attempted to make strides in the past.
In September 2016, President Robert Brown wrote a letter to the community announcing the university would "avoid investing in coal and tar sands extractors" and work with more experts of renewable energy and greener practices. The Advisory Committee on Socially Responsible Investing, which was founded by the Board of Trustees in 2013, guides the university with investment policies and has also said its members have been focusing on ways BU can reduce its carbon emissions. However, because the university doesn't have full control in investments, Brown wrote that there would be challenges in completely divesting.
While measures such as this are significant, Phillips said, he still supports the group's new initiative because he said he doesn't think these past efforts are sufficient.
"The university deserves some credit for taking some action, but [previous efforts do] not go nearly far enough," Phillips said. "There's a need for much more action in this regard."
Phillips said he hopes the new initiative will push the university to be more open about its investment decisions and realize that investing in fossil fuel companies is not worth the environmental consequences.
"I think it's important that the university be transparent about how much they're losing by staying invested in fossil fuels," Phillips said. "One has to ask, 'What principle is BU standing for to stay invested in fossil fuels? … What is it trying to protect by staying invested in fossil fuels?' It's a bad business decision, it's a bad moral decision, it's reckless and it's risky."