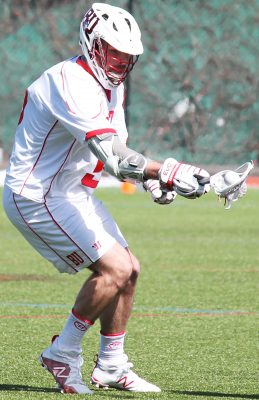 Major League Lacrosse began to play in 2001, and on Sunday the first pair of Boston University Terriers was drafted into the MLL.
Former attacker Cal Dearth and defender Dominick Calisto were both selected in the fourth round of the MLL draft by the Charlotte Hounds and the Ohio Machine, respectively, which are two of the top nine teams in the MLL.
Dearth, a First Team All-New England honoree, Tewaaraton Watch List candidate, All-American Honorable Mention and first Terrier ever to be drafted by a professional lacrosse team, was chosen with the 31st overall pick by the Hounds.
Charlotte selected multiple midfielders and attackers presumably to increase its offensive presence and scoring in an increasingly fast-paced game. Dearth, a team-oriented player and adaptive leader, will be a good addition to the Hounds lineup.
At BU, Dearth not only displayed tremendous competence, as shown by his record-breaking statistics and numerous accolades, but also his versatility, having excelled at two different positions during his collegiate career.
During Dearth's final season, BU head coach Ryan Polley made a tough decision to move him from midfield to attack.
"It was really a selfless transition on his part," Polley said. "When I asked him if he could do it, he said that he would do anything to make the team better. During the season he came up big when we really needed him. Our offense wouldn't have been as efficient without him."
Dearth left BU as the program record holder in goals with 83, assists with 70 and points with 153.
Not too long after Dearth was drafted, Calisto was also welcomed into the pros.
Calisto, a First Team All-Patriot League, All-New England close defender and the second Terrier to be drafted by a professional lacrosse team, was selected as the 35th overall pick by Ohio.
The Ohio Machine has been looking to fortify their defense after a fragile performance in the 2016 MLL championship game.
"[Calisto's] a really clever guy," Polley said. "He knows how to play and that's why he had a wonderful senior year, playing against some of the toughest attackers in the league."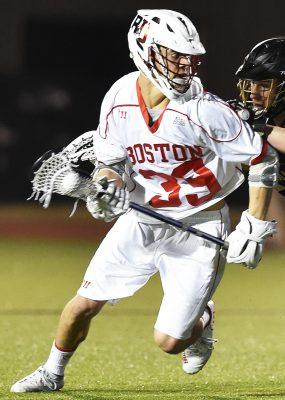 During his time at BU, Calisto was a defensive juggernaut, forcing turnovers and collecting ground balls. He had his most successful season in 2017, leading the team with 28 forced turnovers and picking up 37 ground balls.
Furthermore, Calisto was lauded for restraining some of the league's most prolific scorers. The Jericho, New York native most notably held Tewaaraton Award finalist Pat Spencer to only one assist during BU's matchup against Loyola University Maryland.
"He did a really great job on guys like Spencer," Polley said. "He was able to contain the best attackmen."
A close look at the history of BU lacrosse shows a rapid progression from a fledgling team to a nationally recognized program. Dearth and Calisto were truly the product of years of hard work, dedication and hope.
"We really started at nothing four years ago," said Polley. "We built this thing from the start and had a great season this year. We had a wonderful year."
For such a young program, reaching the Patriot League playoffs so soon was unimaginable. Yet, the Terriers were able to complete both in just four years, achieving acclaim throughout collegiate athletics.
Dearth and Calisto were instrumental parts of BU's success over the past four years and will certainly look to do the same for their respective major league teams in the coming years.
"Those guys were huge," Polley said. "They really deserve all the success."