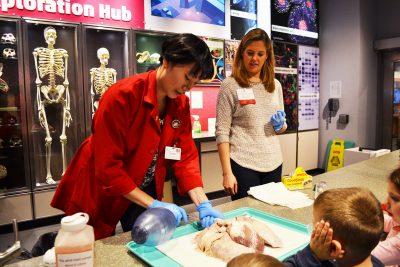 With dozens of museums accessible around Boston, it's difficult to decide which amazing museum to visit first. To help, here's the top three science museums to discover in Beantown:
Museum of Science
1 Science Park, Boston, MA, 02114
Complete with over 700 interactive exhibits throughout it's vibrant halls, the Museum of Science is the center for scientific discovery in Boston. Covering a wide range of scientific subjects from the dinosaurs to space travel, the Museum of Science shares both knowledge and fun for all ages.
The museum is complete with a theater and a planetarium while featuring trendy temporary exhibits highlighting scientific discoveries, culture and historical figures. The Museum of Science is accessible by the T, and admission is $25.
Harvard University's Collection of Historical Scientific Instruments
1 Oxford St., Cambridge, MA, 02138
Across the river at the heart of Cambridge lies the eclectic Collection of Historical Scientific Instruments. The museum features over 20,000 objects covering 600 years of scientific discovery. The temporary exhibit, "Scale: A Matter of Perspective," features a 125-year-old telescope and will be running until Dec. 9. The Harvard Museum of Scientific Instruments is accessible by the T. Admission is free.
New England Aquarium
1 Central Wharf, Boston, MA 02110
One of the most frequented attractions in Boston, the New England Aquarium is right on the harbor. The aquarium features whale-watching, meetings with some of the beloved animals and explorations of the science behind Boston's aquatic life. The aquarium also features a new "Science of Sharks" exhibit with hands-on activities and getting up-close and personal with some of the sea's most fearsome creatures. The New England Aquarium is accessible by the T. Admission is $27.95, however, with your BU ID, admission is $2 less.