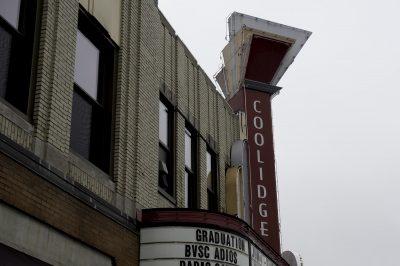 In a city as interesting as Boston, it can be difficult to choose from the abundance of activities offered on a daily basis. The Boston Calendar, an online schedule of events in the Greater Boston Area, often features hundreds of listings for activities happening in any given week. The sheer quantity of options may be overwhelming.
Luckily, there are plenty of venues that will allow you to explore the Boston arts scene without worrying about Uber surge pricing — all of these Boston arts hubs are easily accessible via the MBTA Green Line.
Coolidge Corner Theatre
290 Harvard St., Brookline, MA, 02446
Nearest T Stop: Coolidge Corner (C Line), 0.1 miles away
This is no ordinary movie theater. The classic neon lighting and marquee lettering evoke nostalgia of the glory days of film and cinema — it can be hard to avoid getting swept up in the lush, velvety interior of this Brookline establishment. While mainstream hits may grace one of its several screens from time to time, the venue embraces its 84-year history and truly excels in its wide selection of specialty programs. Showcasing classic cinema, live theatre, interactive discussions and an abundance of screenings, Coolidge Corner Theatre is a can't-miss Brookline hotspot not far from BU's campus and just a two-minute walk from the nearest T stop.
Trident Booksellers and Café
338 Newbury St., Boston, MA, 02215
Nearest T Stop: Hynes Convention Center (B, C, or D Line), 500 feet away
This two-story bookstore and restaurant may attract customers hoping to stick their nose in a good book, but some might find themselves returning time and time again for an incredible cup of coffee too. Their expansive menu of breakfast, lunch and dinner options is budget-friendly, with many items ringing in at under $11. The wall-to-wall bookshelves that line most of the Newbury Street shop are often filled with hidden sales and amazing deals nested between the latest new releases. In addition to good eats and great reads, Trident hosts a smorgasbord of monthly events that include murder mystery dinners, book signings and trivia nights for all ages and interests.
Pavement Coffeehouse
736 Commonwealth Ave., Boston, MA, 02215.
Nearest T Stop: Boston University Central (B line), less than 100 feet away
From the early hours of the morning, Pavement's Commonwealth Avenue location hums with a symphony of unique instruments. Espresso machines, caffeine-depleted students and an always-quirky coffeehouse playlist blend together to cultivate the ideal cafe experience. While it can be difficult to find a table at times throughout the day, the art of scoring a seat at this on-campus establishment is worth witnessing. Once claimed, a spot at a corner table or one of two oversized chairs is the perfect location for people watching and admiring a rotating selection of paintings and photography from local artists. After the sun sets, Pavement transforms into a hub of nighttime activity, hosting comedy, poetry and music nights that feature local talent. Past events include a stand-up showcase for the Women in Comedy Festival and "Gallery for the Community," an art sale supporting Roca, a local nonprofit for high-risk young adults.
The Calderwood Pavilion at the Boston Center for the Arts
527 Tremont St., Boston, MA, 02216
Nearest T Stop: Arlington (B, C, D or E line), 0.6 miles away
Although a few blocks from the nearest T stop, the Calderwood Pavilion — located in Boston's historic South End — is worth a visit. The multi-theatre complex hosts productions from local award-winning theatre companies, including the Huntington Theatre Company and the SpeakEasy Stage Company. Theater companies often offer post-show forums and parties with discounted tickets for students. Next door, at the Boston Center for the Arts Plaza, additional performances and community events offer an exciting look at the Boston arts scene.
Boch Center Wang Theatre and Shubert Theatre
270 Tremont St. and 265 Tremont St., Boston, MA, 02216
Nearest T Stop: Boylston (B, C, D or E line), 0.2 miles away
Opulent décor and a host of national productions make the Boch Center's two locations in Boston's theater district well worth the visit, if only for the guarantee of a lavish Instagram. The Wang Theatre and Shubert Theatre, both located just one block from the Green Line's Boylston stop, feature an extraordinary lineup of award-winning Broadway musicals, live concerts from musicians on tour and an assortment of variety performances. For those who shudder at the idea of sitting still for a few hours, the Boch Center also organizes community events, including yoga at the Wang Theatre and a series of interactive experiences through the annual Artweek festival. Past performances include the Tony Award-winning "An American in Paris" and an evening with comedians Steve Martin and Martin Short. Student rush tickets are available for some productions.