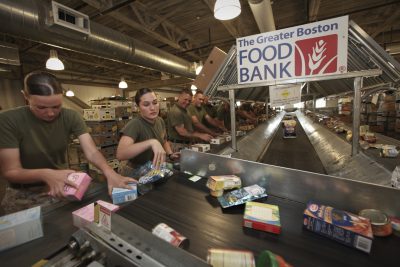 Living in a new city can be daunting, especially when you don't know much about your new community. A fun way to learn about Boston is by participating in community service. Not only will you be able to explore new neighborhoods and meet new people, but you will be able to offer your skills, services and compassion to those in need.
Here are a few Boston-based organizations you can get involved with once you begin your first-year on campus:
Dress for Success Boston
This is an organization that aims to break the cycle of poverty for women and is part of a global movement for woman empowerment. They provide women with attire for job interviews and the first few weeks of employment, help women to identify and work towards their personal and professional goals, offer job training and meetings for career support.
The Greater Boston Food Bank
This food bank is located between the South End and South Boston, and it is the largest hunger-relief group in the New England area and is one of the largest food banks in the country. Their goal is to provide at least one meal to every person in need living in eastern Massachusetts. In addition to providing meals, they are also committed to public health and nutrition.
Scholar Athletes
Roxbury-based Scholar Athletes provides college and career counseling, academic mentoring and intramural sports programs for Boston public high school students. They believe in a connection between athletic participation and academic excellence. The organization operates 20 school-based learning centers in Boston. Volunteers can help with homework, test prep, college counseling and athletic support.
FriendshipWorks
This organization is located in downtown Boston and matches volunteers who can provide companionship and assistance to elderly people in the Boston area. Volunteers can help elders with household tasks, shopping, commuting to doctor appointments or they can just spend their time having conversations.
City Strings United
This group exposes underprivileged children to string instruments and strives to show these children that they can accomplish great things. Music lessons and instruments are provided without charge. Students are taught how to play the cello, how to read music and perform in public, and all children are given individual and group instruction.