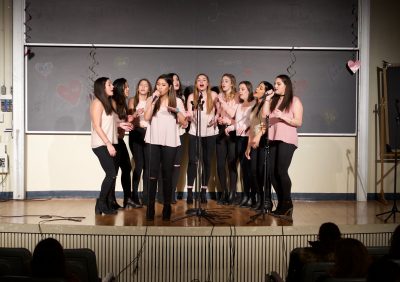 Boston University is a big campus in a big city, where a variety of things are happening at any moment. However, there are a few times a year when the BU community comes together for an event or activity that you won't want to miss. Here's a quick look at some of BU's major events for the upcoming semester:
Splash: Saturday after first full week of classes
Whether you're looking to join some clubs or are just in the market for a free frisbee, water bottle or sticker — Splash is a must. This campus-wide activity fair — while lacking in water balloons and sprinklers — lives up to its namesake, making an annual splash as one of the biggest events on campus. Held after the first full week of classes, Splash brings thousands of students to Nickerson Field for a day of meeting and greeting all of the clubs, sports, Greek life and other organizations that BU has to offer.
Lobster Night Dinner: September 14
It's not your mom's home cooking, but BU Dining Services isn't half bad. From their top-notch Twitter reputation to their wide selection of grub, BU is known to have some of the best on-campus dining in the country. But the real treat comes on their specialty days, starting with Lobster Night. For many students, this is their first experience with this crustacean, and for all students, it's a day to be celebrated. Later in the semester, BU Dining hosts less-famous-but-equally-fun special dinners like Breakfast for Dinner and the Visiting Chef Series.
Weeks of Welcome: Early September
As students flood back to campus in the fall, BU's Student Activities Office pulls out all the stops to greet them. Past favorites include everything from stand-up comedians to bingo to ice cream socials. There is sure to be food, games and prizes for all.
Terrier Tailgate: Early September
BU might not have a football team, but that doesn't mean we don't celebrate game day. Terrier Tailgate is BU's way of kicking off the men's soccer season with BU's band, athletes and fans on Nickerson Field.
A cappella performances: Throughout the semester
Aca-people, make sure to catch a performance by one of BU's 12 a cappella groups this semester. From the all-male The Dear Abbeys to the all-female Aural Fixation, the Hindi-fusion Suno to the Jewish group Kol Echad, there is certain to be a group that caters to your tastes.
Greek Life recruitment: Fall and Spring
If you've always wanted a brother or sister, or maybe a few hundred brothers or sisters, look no further. There are 12 sororities and eight fraternities at BU that boast over 1,500 members. There are also different fraternities for student organizations and areas of study. Fraternities formally recruit new members in both the fall and the spring, while sororities recruit only once during the spring semester. Recruitment gives students the chance to see if these groups — centered around philanthropy, social events and community service — are for them.
BU Improv: Throughout the semester
The George Sherman Union's basement houses BU Central, home to some of the funniest students at BU. The Terriers have several student-run improvisational comedy groups that host workshops and performances throughout the year. Groups like The Callbacks and Liquid Fun feature sketch, short-form and long-form improv performances that keep audiences laughing all night long.
BU Ice Hockey: October-Spring
BU's five-time national championship team plays throughout the winter at Agganis Arena, with a student section that is nothing short of rowdy. Especially in games against our crosstown rivals, the Boston College Eagles, students come en masse to show their Terrier pride.
BU On Broadway: November 3-5, 16-18
This musical theater group is home to many of BU's up-and-coming stars, with productions that never fail to bring down the house. This fall, look forward to their adaptations of two Broadway classics. The first weekend of November, watch as the seedy nightlife scene of the Kit Kat Klub comes to Commonwealth Ave with the 1966 showstopper "Cabaret," and then just weeks later, teenage angst will meet alternative rock in their production of the 2006 hit "Spring Awakening." Don't forget to get tickets ahead of time, as On Broadway shows often sell out.
Latkepalooza: December
BU's Florence and Chafetz Hillel House hosts Latkepalooza each December, serving thousands of free latkes to the student body regardless of their affiliation with Judaism. Thousands. Of. Free. Latkes. Need we say more?
CORRECTION: In a previous version of this article, it mentioned upcoming performances for a BU comedy group that no longer exists, Sons of Liberty. Also, it said Liquid Fun performs short-form, rather than both long-form and short-form improv.