By: Breanne Kovatch and Sabrina Schnur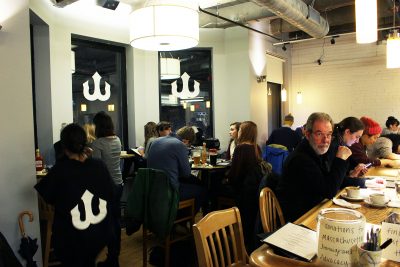 Every travel book will tell you the obvious places to visit, but sometimes you need to venture out to the hidden spots to really know your city. We're here to give you a guide to the spots the tour books won't tell you about.
Trivia Night at Trident Booksellers and Cafe
Trident Booksellers and Cafe is the perfect place to escape to do homework — or from your homework — or to just hang out with friends. Everyone goes there for great food, a fun brunch or to buy a book from their vast collection. However, the weekly trivia nights are where the real fun is at. These are held every Friday night at 8:30 p.m. and it's a great way to unwind after a stressful week of classes while expanding your knowledge.
SoWa Boston
SoWa is an art and design district in the South End, and is home to endless activities and art galleries. On the first Friday of every month, the artists and vendors throughout the district welcome the public to come in and experience firsthand their work while they are in their element. There's an open market every weekend from April through October, a year-round vintage market and a holiday festival during the winter season. Essentially, there's something for everyone.
MFA Films
Not only is the Museum of Fine Arts a great to visit to get your fill of art for free (yay BU IDs), you can now watch movies there too. "On the Fringe: American Cult Films of the 1980s," their current program, allows guests to watch a cult classic from a different year in the 80s each month of 2017, and every year they devote an entire month to playing various Stanley Kubrick films.
The Mary Baker Eddy Library
Like many libraries in Boston, this one has an interesting history that makes it more than just a quiet study space. It is officially located in Back Bay, but it's within walking distance from East Campus. This library's most distinct feature is the Mapparium, a stained glass globe that shows a 30-foot-wide map of the world from 1935 when you walk through it. Mary Baker Eddy was the founder of Christian Science in the United States. The library features two floors of seasonal exhibits on science, geography and the scientist herself. The globe also has occasional sound and light shows.
Warren Anatomical Museum
Hello Sargent students! The Warren Anatomical Museum near Longwood Medical Center is full of bones, deformities and preserved parts of all sorts. A local favorite is the Phineas Gage exhibit — an iron went through the left lobe of his brain while working on the railroads in the 19th century. He lived another 12 years after the accident.
All Saints Way in the North End
Maintained by local resident Peter Baldassari, this alley in the North End is a wall with framed photos of Roman Catholic saints. Each saint is labeled and some have some iconography around them. Whether all the saints are represented or not is up to the experts, but if there's going to be a wall of every single Catholic saint, it's fitting that it is in the North End.