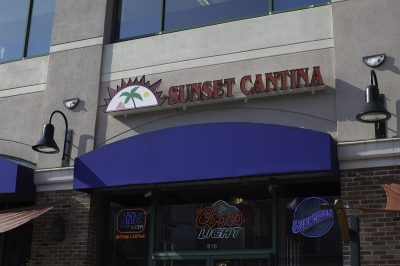 Sunset Partners Inc., the parent company of Boston University hotspots Sunset Cantina and Sunset Grill & Tap, filed for bankruptcy late last week, according to the company's lawyer David Madoff.
Madoff, who represents Sunset Partners, said the restaurants will continue business as usual while the company reorganizes its debt.
"What [the bankruptcy] means essentially is the businesses will continue to operate, and in the next several months, we will be putting together a plan to restructure the company's debt to move forward," Madoff said.
The chapter 11 petition for relief, which was filed in the Boston U.S. Bankruptcy Court, allows Sunset Partners a 120-day "exclusivity period" during which it will develop a plan for reorganization, he added.
"The restaurants will operate without any change to sort of the outside world — nobody got laid off, the restaurants are still open the same hours and serving the same food and drinks, nothing will change there," Madoff said.
Sunset's debt is not related to a lack of popularity, Madoff said. It was largely acquired from the 2014 purchase of the two Sunset locations by its current owners Marc Berkowitz and Ara Balikian from Sunset founder Marc Kadish.
"The debt was mostly incurred in connection with the current owner's purchase of the business back a few years ago," Madoff said. "They've been trying to restructure the restaurant since then, and [the bankruptcy] is just a step in that process."
Madoff said the financial struggles of the business were, in fact, one of the reasons Berkowitz and Balikian initially invested.
"They knew there were issues with the business. That's why they bought it — to try and turn it around financially," Madoff said. "I didn't know that they planned on filing a bankruptcy. I don't think they planned that."
Madoff confirmed that the company listed $5.67 million in debt and $1.06 million in assets. The company plans to work with its creditors to turn itself around while keeping things in the restaurants at the status quo.
"Nothing will be different," Madoff said. "Same good food, same reasonable prices. Same restaurant, same everything else."
Sunset Partners owes its largest creditor, The Hamilton Company, $4.2 million. Hamilton's president and Chief Operating Officer Carl Valeri said he thinks the company's reorganization will be mutually beneficial for both companies.
"[Sunset Partners is a] very good operation providing a very good product to the local community," Valeri wrote in an email. "We believe the reorganization will make them even a better operator. As landlord and secured creditor, we have faith in the system and understand the outcome will be productive for all parties involved."