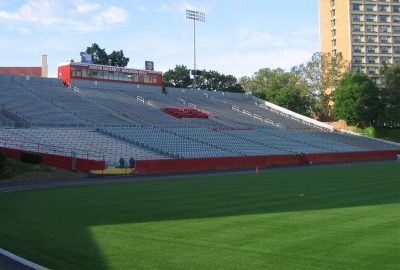 Boston University Director of Athletics Drew Marrochello hosted a webinar, Inside BU Athletics, on Monday afternoon to discuss the past year of Terrier sports and what the program is looking forward to.
Marrochello started out by saying this year, 19 BU teams were ranked in the top three of their conference. The women's teams won the Corvias Patriot League Presidents' Cup for the third time in four years and men's hockey almost made it to the Frozen Four.
In the webinar, Marrochello compared his feelings of all the various Terrier teams to the men's ice hockey season.
"At the end of the year, men's ice hockey was one goal away from the Frozen Four," Marrochello said. "None of us are satisfied, but I will say this, coming from me, I'm not disappointed either. I think we can do better, but I do think overall there were a lot of things to be pleased with."
In terms of coaches, no head coaches are being replaced, Marrochello said. However, nine assistant coaches have been turned over, and BU Athletics is currently searching for a director of women's rowing.
BU Athletics is also on the lookout for a head coach for cross country since the current coach, Bruce Lehane, will be retiring from BU after 35 years.
A large portion of the webinar was focused on the time management students face between academics and sports, and the fact that many coaches remain mindful of this fact.
He stated that "[academics are] the most important aspect of what we do even as we strive to win national titles."
Donors raised over a million dollars for varsity level sports this year during BU's Giving Day on April 5. Twenty percent of the money obtained from fundraising events, like Giving Day, go toward summer school for student athletes to get ahead and pursue graduate programs, which is the highest percentage of money allocated to any single category.
"We're very transparent about where your money goes and how we spend it," Marrochello said. "I think that is quite important."
A popular topic that Marrochello addressed was the retention of men's hockey players and he said, "It's the nature of college hockey in 2017."
"I can just tell you that it's not our plans to lose a lot of kids every year," Marrochello said. "I think you will lose kids every year especially if you're playing at an elite level of hockey … We certainly don't want to lose a good portion of our team every year. You're rebuilding as opposed to reloading so hopefully we have a little bit more stability moving forward."
Marrochello talked about the future of head coach David Quinn and whether or not Quinn will leave to coach an NHL team. But he did affirm that "[Quinn's] plan is to stay here for a while."
Men's lacrosse made formidable progress this season, with Marrochello calling it an "expansion team" and BU Athletics hopes it continues its progression to the national stage.
BU Athletics will continue its partnership with the College of Communication in terms of the Patriot League Network, which broadcasts of the games, and Marrochello said he hopes to increase the quality as well as keep the stream free.
Many facilities are being renovated over the summer such as BU's DeWolfe Boathouse. There are also plans in the future to rebuild Case Gym. However, locations are being looked at and logistics need to be worked out, Marrochello said.
"[The Case Gym] hasn't been back-burnered, but we haven't had the progress to this point," Marrochello said during the webinar. "We will have some progress next year on the outside of the arena … I do think it's something we need. We need that basketball facility to be modernized, to be better."
Marrochello pointed out BU Athletics campaign Who Are We, which consists of 15 tenants outlining BU Athletics' values and guiding principles.  
"My favorite passage [from the campaign] is … 'We succeed when our students would choose to be Terriers again,'" Marrochello said. "[People] have valuable insight, but to me the most important aspect of the evaluation is, no matter what you want to say about your four years, 'Would you do it all over again?' I tell our staff if they say no then we've failed that kid across the board."