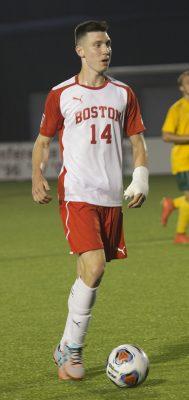 Rising senior and Major League Soccer prospect Anthony Viteri will not play his senior season with the Boston University men's soccer team due to several concussions he's had throughout his college career.
"Unfortunately Anthony is finished playing," said BU head coach Neil Roberts. "He's had a concussion problem and he's had to, I hate to use the word, retire at the age of 21. He was forced basically to stop playing."
Douglas Comeau, the medical director of sports medicine at BU, defined a concussion as, "a blow to the head, neck, or face which causes temporary disequilibrium of the brain, which subsequently causes other symptoms such as headache, nausea, vomiting, dizziness, difficulty concentrating, difficulty remembering [and] up to 23 different types of symptoms."
Three of the most prominent causes of concussions or traumatic brain injuries, or TBIs, in the United States include falling — especially among young children and the elderly — being struck by an object and getting into motor vehicle crashes, according to the Centers for Disease Control and Prevention.
Comeau added that football, soccer and ice hockey are the sports with the highest percentage of athletes that get injured and have concussions.
Roberts said Viteri felt this was the best decision for himself after having numerous concussions over the past six years. Comeau said that athletes that have a previous history of concussions have a much higher risk of having another serious head injury.
"It could be even from the fact that they play a certain sport [or] the fact that they may be more guarded because they've had a concussion before," Comeau said. "So that would maybe make them more vulnerable to getting hit again because they're not playing the same."
After transferring to BU during his sophomore year, Viteri has been an essential member to the Terriers lineup.
During the 2016 season, the Flushing, New York native found the back of the net eight times and was ranked No. 32 in the nation for goals per game. Among these goals, three were game-winners.
Viteri was also named All-Region and All-Conference First Team honors for the second season in a row.
But there is some good news for BU soccer — the team's other top offensive player, Felix De Bona, signed a professional contract with Ekenäs IF, a Finnish First Division club, in April.
The Somerville native posted 38 points during his final two seasons at BU. During De Bona's senior season, he and Viteri both led the team with eight goals and two assists each.
Most notably, he led the team to the Patriot League Tournament after assisting on the only goal scored in the regular season finale against the United States Naval Academy. This victory ensured a playoff berth for BU.
"I was happy for [De Bona]," Roberts said. "I mean this is what he's always wanted to do. So I mean it is something that he's worked very hard at and we were all happy for him."
With De Bona and Viteri gone, BU will look to other players to step up offensively.
Rising sophomore Matt McDonnell finished his freshman campaign third on the team with eight points and started in his last six games, after only being featured in one of 11 contests in the beginning of the season.
"Hopefully he can at least double that goal scoring production from last year," Roberts said. "But he'll be one of those young kids that'll have to really make another jump in his progression."
Rising sophomore Jerry Ozor also had a successful debut season with the Terriers and led the team in assists with five.
"It'll be a work in progress," Roberts said of next season's offensive production. "I think we'll have to count on some young kids, which we don't have to do a lot, but that'll be fun and interesting, and we'll see how quickly they can develop."