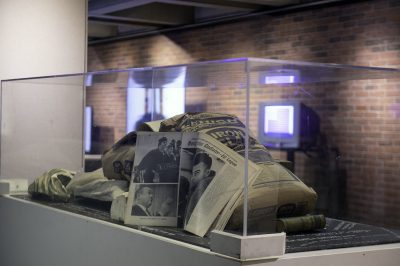 Boston's City Hall is attracting more crowds this summer, but it's not for the standard parking tickets and marriage licenses.
Continuing an ongoing effort with the Mayor's Office of Arts and Culture, Mayor Martin Walsh announced July 14 that new art installations were on display to infuse City Hall with a dose of cultural vivacity.
The public can experience four art exhibitions and view three recently added murals. While each collection explores different mediums and motivations, the presentations as a whole contain origins and ties to Boston and its history. The additions are a part of the Boston Creates Cultural Plan, a 10-year effort started in 2016 to enhance the city's art culture.
One of the exhibits on display until Aug. 18, "A Summer Proposal: Boston City Hall" contains work from eight artists from Boston and Cambridge who are concurrently professors and teachers within the area's higher education institutions.
"In a way, Boston is having a Renaissance moment in the visual arts," said Paul Ha, exhibit curator and director of the Massachusetts Institute of Technology List Visual Arts Center.
Amidst growing offerings and an influx of entering talent, Ha said he recognized the opportunity to join the local artistic and academic community through the exhibit.
"Most of these artists have never met before," Ha explained. "This was sort of a small way to connect them."
The pieces themselves were chosen with consideration for City Hall's own Brutalist architecture. Designed in 1968, the striking raw concrete exterior focuses less on smooth aesthetics and leans toward functionality.
"It's such a demanding space," said Cambridge-based artist Andy Graydon, a media arts professor at Tuft University's School of the Museum of Fine Arts. "It's very challenging for artworks although it's such an incredible icon, in a way, for the city."
Graydon's short film, "Vostok, Faretheewell," is on display within the exhibit, drawing connections between the piece's premise of a Japanese foreigner exploring Berlin, Germany to the experience of visiting Boston City Hall.
"What you get from the surface is often times merely a surface or echo," Graydon said, explaining the historical significance of the space and the stories that previously occupied its land.
Another exhibit, up until Aug. 11, is called "Saturn's Transit: A Collection of Journal Entries" by local artist and industrialist designer Jeremy Hetherington. A medium of cut paper is used to portray Hetherington's "process of mindfulness," according to the City Hall website.
Also on display are selections from archeological findings from throughout the area. The City Archaeology Program presents a glimpse into the past, including artifacts from the Shawmut Native Americans who previously occupied the Boston area to pieces from revolutionary times.
The final display is called "Sail Boston," a series of photographs featuring tall ships taken by photographer Kevin Davis since 2000. The pieces reflect the commanding presence of such large watercrafts around the country, including in Boston's own tides.
"I find tall massive ships to be compelling," Davis said. "They're grand. They're adventurous. They harken back to the grand age of sailing."
Davis also touched upon the need for more exhibition space within the city.
"I think we're still falling a little bit short on accessible places for artwork that can't withstand the weather," he said.
In addition to the art collections, three new murals were unveiled to liven up the building's walls.
All created by the Mayor's Mural Crew, lead and designed by Heidi Schork, the murals provided local youth with the opportunity to help construct the pieces.
One mural, created with the MMC and Mayor's Office of New Urban Mechanics, gives newlyweds a new background for those married in City Hall. The bride and groom can use the hashtag #MarriedInBoston on social media to promote an ongoing photography project by the Office of New Urban Mechanics centered on City Hall marriages.
With this juxtaposition between contemporary murals, Brutalist design and photography, City Hall has attempted to reflect the diverse art styles in Boston.
"When you're looking at City Hall, you're thinking this is majestic, both majestic and oppressive and amazing," Graydon said. "But then you immediately question, how does this work for anybody?"