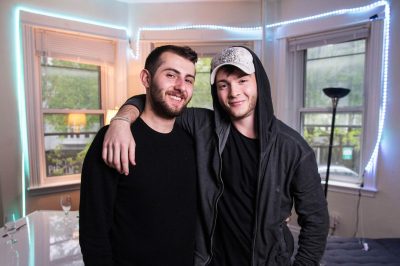 The students who swear by the "West is best" mantra may have just secured their convincing evidence: The 803, an omakase sushi restaurant founded in a West Campus dorm by Boston University students Jarrett Deutsch and Ethan Cole, will open a New York City pop-up this weekend.
The sushi pop-up arrived at the Clancey, a restaurant located in the Lower East Side in Manhattan, on Thursday. Both a lunch and dinner service will be provided through Saturday, with prices ranging between $45 and $125.
It's a big step for College of Arts and Sciences student Deutsch and College of General Studies student Cole, both rising sophomores at BU, who started making sushi in their West Campus dorm room after finding themselves "tired" of dining hall food, said Cole, who serves as co-founder and COO of The 803.
"We picked up some fish and some rice [at Sakanaya, a fish market in Allston] to make ourselves some sushi," said Cole, who learned how to make sushi from his family. The smell began to travel throughout the hall, and other residents came to the room to investigate.
"We decided to make a couple pieces for them to try, and they fell in love," he added. "I was kidding around, and I was like 'Yeah, this is getting pretty popular, we might as well just open a sushi restaurant,' as a joke, and Jarrett was like, 'Yeah, why not?'"
The two roommates began serving friends and floor mates, calling their restaurant "The 803" — in honor of their room number. 
It wasn't long before word got out about the eatery and its grilled saba, seared mauro and cured oral king sake. 
"We were serving strangers by the time we really blew up … after the second dinner," said Deutsch, co-founder and CEO of The 803. He attributes this explosion of business to the use of Snapchat geo-filters and a broad social circle, allowing word to spread quickly.
The restaurant industry can be particularly volatile, but it wasn't a lack of business that posed the greatest obstacles for The 803. As interest and demand grew, so did the challenges of running a sushi restaurant from their dorm.
Because they lacked a kitchen and in-room sink, they hired a student to be their unconventional dishwasher, running cookware and dishes back to the nearest sink on the floor's communal bathroom, Deutsch said.
The limited space also posed creative restrictions for Deutsch.
"I was very limited by the fact that (we) didn't have a kitchen, that I couldn't incorporate the stuff I had learned beforehand," he said. "We were doing pretty elevated stuff in the dorm … [but] there were a lot of things I felt I hadn't yet conquered."
They consider themselves "lucky" to have faced little consequences for operating a restaurant out of their dorm room, Cole said.
The service remained undetected by the resident assistants at BU until after the school year had ended, at which point publicity ousted the operation, Cole said. Even so, he said, "the person I spoke to … was very understanding and actually thought what we were doing was cool. We were lucky enough to get left off with a warning."
This time around, they won't have to worry about abiding by BU's housing agreement and the legality of a secretive restaurant. With the pop-up, the obstacles they faced in their dorm won't be an issue. With the space and resources to operate a full-fledged restaurant, both Cole and Deutsch feel that they can cement their legitimacy as restaurateurs.
"We wanted to do something legitimate and [be able to] actually invite people who are prevalent in the industry and kind of appreciate what we're doing," Cole said, adding that the pop-up will also allow the restaurant to gain popularity while they are still in New York.
"I didn't really care about making money," Deutsch added. "I wanted to have the opportunity to make some real food."
That opportunity will manifest itself in the pop-up, for which a Facebook event has been created. As of Aug. 16, 38 Facebook users have indicated that they are attending the pop-up, with an additional 73 expressing interest.
The team has high hopes for the pop-up's success.
"I expect everything to run smoothly, and for it to really be a good time! I can't wait to see how all of Jarrett and Ethan's efforts pay off," wrote Arnaud Lecole, Chief Marketing Operator for The 803.
Lilly Robbins, 17, of New York City, is a friend of Deutsch and has assisted with some of The 803's events in the past.
"I'm positive that everyone's dining experience will be more than wonderful, especially considering all the time and dedication their whole team has put into this event," she wrote in a Facebook message.
After the pop-up, plans for The 803 remain unclear — although the opportunities to explore their culinary options abound for Deutsch and Cole.
"I'm [living] off-campus, so there's maybe a chance of small dinner parties where I am, but we also had some legitimate offers of restaurants in Boston that wanted to take us in and cook there a few nights a month to showcase what we've been working on," Cole said.
Deutsch added, "I don't know if I'm going to pursue this [in the future]. I have always loved food, and I do think I'm a pretty good chef. I don't want to say that boastfully, but … I have no training and people seem to like what I'm doing."
Perhaps that lack of training is part of The 803's charm, which has been described by both Cole and Lecole as "eclectic."
"It's fascinating to watch the two teenage chefs put smiles on the faces of people double and triple their age. The fact that with absolutely no professional culinary experience, Jarret and Ethan have created such a business is very impressive," Robbins wrote.
Reservations for The 803 pop-up in New York City can be made at http://the803restaurant.com/reservation/.