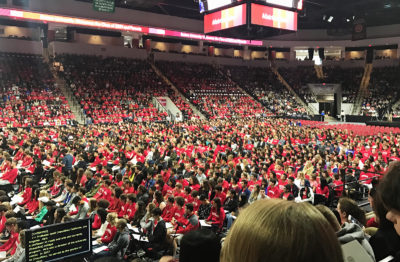 The rain and overcast clouds on Sunday afternoon did not dampen the spirits of attendees at the Class of 2021 Matriculation Ceremony at Agganis Arena on Sunday afternoon.
Approximately 3,400 members of the Class of 2021 from all university schools marched down Commonwealth Avenue dressed in scarlet and white before entering the arena to join friends, family and faculty and be matriculated as official Boston University students.
Eva Dutt, a freshman in the College of General Studies, said she couldn't be more excited to be at BU.
"The ceremony and everyone has been really welcoming and nice so far and I'm just really excited to be here," she said.
The ceremony's speakers addressed the topics of diversity and encouraged the new students to take advantage of all the opportunities available to them at BU and in the city of Boston.
Student Government President SaraAnn Kurkul addressed the Class of 2021 on behalf of SG, advising students that passion, perseverance and people are necessary to make the most of their college experiences.
"We all face obstacles that will try to stop you from achieving success and that feeling of fulfillment and happiness that will set your soul on fire," the College of Communication senior said. "You might not know your passions yet, but now is the time to discover them."
Kurkul also challenged students to step out of their comfort zones by trying something new, exploring the city or having discussions and listening to someone from an unfamiliar culture or with a different worldview.
"Get up and show this university what you're made of," she said. "Get your money's worth, be active and don't forget to be present. These moments shape who you are and they build character."
Victor Coelho, a professor in the College of Fine Arts, also spoke at the ceremony, reminding the students that they are not the only ones learning, but professors and faculty learn from the experiences and knowledge of students as well.
"Teach us. Accept this as your gift and as your responsibility," he said. "Recognize the depth and the breadth of your own history, and teach us."
BU President Robert Brown also addressed the Class of 2021, encouraging students to embrace and take advantage of diversity in the BU community.
"You have an amazing opportunity in that the freshman class today is the most diverse in our history, composed of students of all races, all economic backgrounds and from all over the world," he said. "To experience Boston University in its fullest, embrace our diversity in all its forms."
Brown also recognized the work of the 600 First-Year Student Outreach Project volunteers who, in the last week, completed over 10,000 hours of community service with 110 community partners in Boston. He also discussed the new improvements on campus including the newly completed renovation of Myles Standish Hall, the opening of the Center for Integrated Life Sciences and Engineering building on Commonwealth Avenue and the new Joan and Edgar Booth Theater and Production Center.
After the ceremony, students said they felt inspired and excited to begin their college experiences at BU.
Morgan Moscinski, a freshman in CFA, said she enjoyed Brown's speech about diversity.
"I come from a really [not] culturally diverse area, so it's nice to know that this place will be different and more accepting than where I'm from," she said.
William Burnett, a freshman in CGS, said he thought the ceremony generated a positive sense of community at BU.
"I really loved the references that were made in the speeches about how each college brings different things to the table, how things like beauty come from CFA and how freedom comes from CGS," he said.
Students also expressed their motivation to start exploring and getting involved on campus.
Dutt said she was excited about the different clubs and organizations that BU has to offer.
"There's so many [clubs] to choose from and I'm really looking forward to Splash and getting involved with trying a new activity or extracurricular," she said.
Other students said they were thrilled to be living in the city of Boston as well.
Brianna Jackson, a freshman in the Questrom School of Business, said after participating in FYSOP, she is eager to become an active member of the community both inside and outside of BU.
"FYSOP stressed being an active citizen in all neighborhoods of Boston and how we have four years to really explore the whole area, so I am really excited about all of those possibilities," she said.
Burnett, who grew up in Boston, also said he is excited to share the city with new people.
"I love it so much so obviously I stayed, but it's nice to be home and to bring other people here and I can't wait to show them why I love [Boston] so much," Burnett said.